Steak & Blowjob (Tips) for All!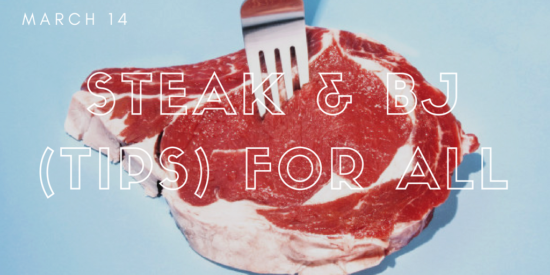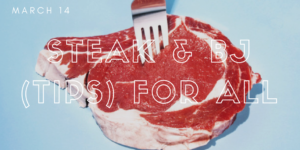 Although you may have trouble finding a card for it at Hallmark, and you probably didn't get the day off work, March 14th marks a pretty special holiday.
Some call it the male response to Valentine's Day, some come call it "Oral Appreciation Day." Whatever you call it, just know that if all goes well, there will be blow jobs.. And most likely steak.
That's right, Steak and Blow Job Day is upon us again.
Nestled comfortably between International Women's Day and St. Patrick's Day (there's a joke in there—I'm sure of it), this lighthearted, albeit a little sexist, holiday serves to remind women everywhere that men don't give a crap about flowers and candy. What they really want is oral sex… Just like every other day of the year.
Some of you may find Steak and Blow Job Day to be disgusting and juvenile, and that's okay! Maybe you'll celebrate "Chopped Up Hot Dog Day" instead. Maybe you'll hand your guy a Fleshlight Turbo, wish him a pleasant evening, and head out for your regularly scheduled Thirsty Thursday.
But maybe, just maybe, you're excited by the idea of surprising your partner with a few of their favorite things. Maybe you can't wait to fire up the grill and treat your partner to a juicy Filet Mignon/fellatio combo. You love going down on them, and you want to make tonight's BJ surpass all oral sex-pectations.
If this is the case, then buckle up, buttercup. You're about to blow your lover away… Here are our top 5 hottest blogs about all things blow jobs!
The road to truly spectacular sex is a two-way street. Sometimes, you've gotta give a little to get a little! That's why 69 is a fan-favorite in the bedroom. In this position, we're able to provide a partner with continuous oral pleasure without sacrificing a moment of our own.
Despite its undeniable popularity, there are a lot of people out there who still shy away from 69. True, the logistics can be a bit tricky. But when the payoff is giving and receiving pleasure in perfect oral harmony, well… It's worth the time it takes to perfect.
Check out this blog for 3 tricks to step up your dual-stimulation game!
When done correctly, a blow job can be the perfect weapon to have in your arsenal. It's hot, it's intimate and has the power to catapult you to new realms of 'dream lover' territory, not to mention inspire your partner to return the favor. But more importantly, a great blow job can be a lot of fun!

There are times, however, when going down can be a bit of a downer. If you end up with a head-pusher or larger-than-average member, that BJ might start to feel more like a job than a frisky form of foreplay. Throw a sensitive gag reflex into the mix, the fantasy of a flawless BJ can turn into a real nightmare.
Before you throw in the towel and give up on going down forever, we've got a few simple oral sex hacks to help you work through your gag reflex in this blog.
Have you ever heard that saying "Sex is like pizza – Even when it's bad, it's still good?" While this may be true for most, there is one exception to that rule: Oral sex.
When done correctly and enthusiastically, there's nothing more magical. When done poorly, however.. A blow job can go from a delicious, hearty meal to one of those sad, cold Lunchables pizzas – Vaguely reminiscent of the real thing, but still totally dissatisfying.
So how do you make sure that you're serving up some deep dish, Chicago-style oral sex? We pulled together some of our favorite blow job tricks for you to try out TONIGHT in this blog.

We've all got that one thing that we know beyond a shadow of a doubt that we are awesome at. For some of us, it's math; for others, athletics. Some excel at life skills like cooking, cleaning and writing cover letters. And then there are those precious few who possess a less marketable, though arguably just as valuable, skill: the ability to give great head.
As both a proud penis owner and appreciator of the male form, Eddie always knew he was destined for BJ greatness. As he puts it, "my credentials may not be from the Fellatio University, but being attracted to men and having a penis of my own has taught me the works." And he's more than happy to share some of his tried-and-true tricks for outstanding oral sex in this blog.
For those of us who are more auditory learners: In this podcast, Emily compiles some of her hottest oral sex hacks to help you mix up your blow job routine and use ALL the tools at your disposal, including your lips, tongue, hands and possibly even a toy or two!
Want to know what makes the world's best BJ? How about the worst? Emily reads a couple scintillating blow job stories submitted by real-life listeners, and Anderson speaks up on behalf of penises everywhere to tell you which nerve-packed spot you should definitely be pleasuring – prepare to meet your new best frenulum!
From the deep throat to the hummer and everything in between, this show has the tips and tricks you need to make every day your very own BJ day!