American Student Gets Stuck in a Giant Vagina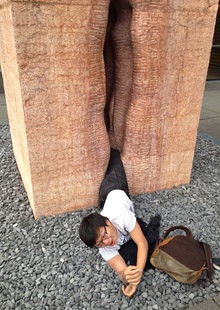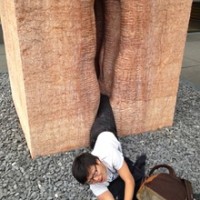 I know, the vagina is a magical place. Who wouldn't want to crawl inside? Interestingly enough, one American in Tübingen, Southern Germany got the chance, and his enthusiasm led to a massive rescue involving 22 firefighters.
The offending vagina is a sculpture called the Chacán-Pi (Making Love). The sculpture consists of…well…a giant vagina. It's made of 32-tons of red Veronese marble and is meant to signify "the gateway to the world." Maybe this is an explanation for what the young American Student was searching for when he crawled inside.
On Friday afternoon a young student had to be rescued by 22 firefighters after somehow getting trapped inside the cave-like opening of the Chacán-Pi. The artwork was created by Peruvian artist Fernando de la Jara and has been planted set outside of the Tübingen University's institute for microbiology and virology since 2001. Previous to the American student's entrapment, the statue was the main source for witty comments and giggles from passersby.
Police confirmed that the heroic firefighters (who acted as midwives for the day) rolled up their sleeves and delivered the young student through the vaginal opening "by hand and without the application of tools." Quite impressive.
The mayor of Tübingen was left baffled by how this could have happened, "even when considering the most extreme adolescent fantasies. To reward such a masterly achievement with the use of 22 firefighters almost pains [his] soul."
The student made it out of the vagina alright, but we are still left with the question of how this happened in the first place. The most likely scenario was a juvenile decision to climb inside the statue, but the results, I'm sure, will leave this young American Student to think twice next time he wants to dive head first into a vagina.
Can't get enough SexWithEmily?
Subscribe on iTunes and never miss your bi-weekly Sex Ed…