Stuff Your Stocking Right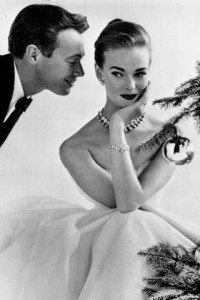 Here come the holidays, whether we are ready or not!
There are two kinds of people during the holidays — the ones that shop ahead, and the ones that shop just days before the event, scrambling to get all those gifts for their loved ones. Sure we all want to see a few big ticket items under the tree, but what about stocking stuffers!? Small gifts can be a great choice for couples, especially when they're sweet or a little bit spicy!
Working at a sex shop, I have compiled some great naughty and nice items that are sure to spice up any winter night…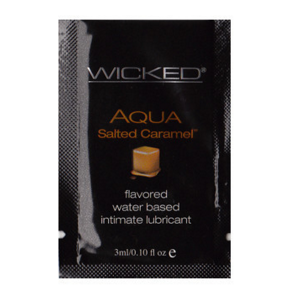 Flavored lube or flavored condoms!
There are many different flavors out there these days, from mocha java, salted caramel, candy apple and of course, fruit flavors.  Adding some flavor to the mix is sure delight every palate. Wicked and System Jo make some delicious flavors, like salted caramel and vanilla bean. Most of these lubricants are water based, which means going from oral sex straight into intercourse will be just fine, and your toys will be safe to use with them as well. Most sex shops carry sample size packets in various flavors, which are a perfectly portioned and ready to stuff in your lovers stocking.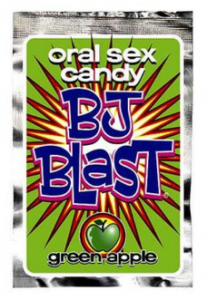 BJ Pop Rocks
Yes, it's a thing! This little pack is sure to surprise and tickle your man's most sensitive area. Just like regular pop rocks, but more body safe, sprinkle a couple of these tasty rocks into your mouth before going down on your partner and enjoy the fizzing, popping, bursting action that will leave explosions of flavor in your mouth and provide an entirely different sensation for your lover. Add some candy sparks to that yule log and watch the fire burn bright!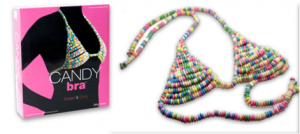 Edible Undies & Bras
Or as I like to call them edible 'unmentionables'. Let's be real — adding any flavors or food to the sex mix will obviously require some oral involvement. And who isn't on board for that? These edible goodies come in a variety of wearable attire options, from candy bras to G-strings to tasty cock rings, OH MY! Bite, kiss, lick and nibble to your way to the real treat beneath.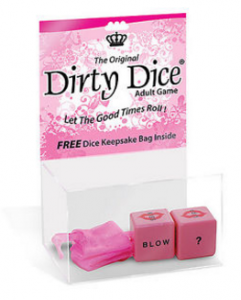 Dirty Dice and Sexy Card Games
'Deck' the halls this season with these little stocking stuffers, which offer adventurous ways to explore new sex acts and learn a little bit more about your partner. Whether you're in a new relationship or long time lovers, adding some dirty dice  will be sure to heat things up in the bedroom! (Or kitchen, or living room, or laundry room…) All you do is toss the dice — one offers six different sex acts (kiss, lick, blow, tease, touch, massage) and the other offers six sexy locations to do them.
Sexy card games are another fun way to bring a bit of playfulness into your sex routine, and they're perfect for travel, too!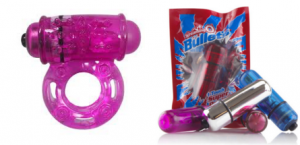 C-Rings and Vibrating Bullets
It's the most wonderful time of year…for toys! C-rings (cock rings) and bullets are a fantastic way to celebrate the holidays and 'ring' in the new year. Screaming O has a host of toy options for men and women. From non-vibrating to vibrating penis rings, and bullets that go buzz in the night, these compact toys are sure to add a delightful surprise and bring good tidings to all.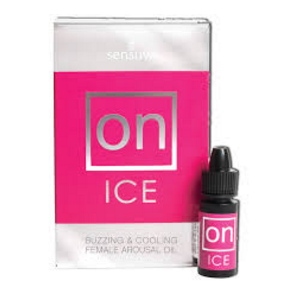 Arousal Stimulants
Baby, it's cold outside, but it doesn't have to be cold between the sheets. Whether you've been naughty or nice, these stimulants are sure to 'rock you around the christmas tree!' All. Night. Long. Just 1-2 drops of On's clitoral stimulants, and you'll be caroling for more. And don't forget about his sleigh ride with On: Power Glide!  Often found in sample sizes, these perfect little holiday treats offer warming and cooling properties to enhance clitoral pleasures for her and firmer satisfaction for him. It's a win-win for everyone this holiday season!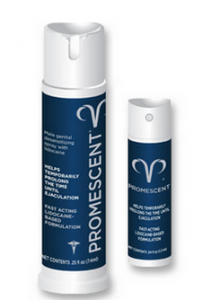 Promescent
In the spirit of the giving season, why not give your partner the gift of longer lasting sex? While a delay spray might seem like a loaded gift to find under the tree, the truth is, Promescent is not just for premature ejaculators! Promescent is great for any guy who loves sex and wants to have more of it.. So basically, all guys. All you need is two quick pumps of this FDA approved delay spray and you'll be lasting up to two times longer in bed! With this gift, everybody goes home happy!
'Tis the season for giving, so why not give the gift of sexual surprises and pleasure? If you do it right, the stocking won't be the only thing that's getting stuffed this holiday season.
Happy Holidays!
McKenna
Editor's Note: Almost all of these products can be found at your local Hustler Hollywood (Mention Sex With Emily sent you for a special discount!) Don't have a Hustler store near by? Get your goodies online at HustlerHollywood.com! Use code EMILY20 at checkout for 20% off your order…