How To Have A Successful One Night Stand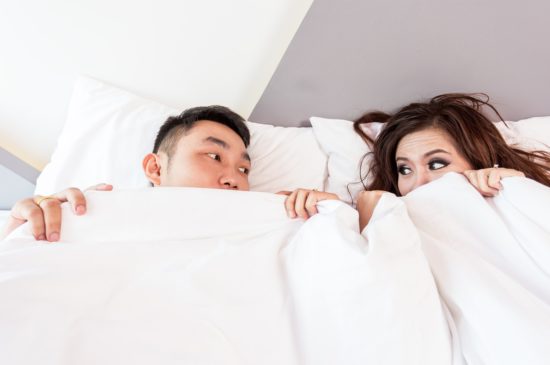 One night stands can be tricky business.
It might seem fun and easy to go to a bar, find a hottie and take them home for some hanky panky.
Enjoy a pleasure-filled night and part ways the next day…or right after.
However, it rarely goes so smoothly. Lucky for you, we have a few tips and tricks to make every one night stand a healthy, connected and fun experience.
Casual Sex Classics
When I was planning on writing this blog post, I did an inventory on my sex life and tried to find nuggets of wisdom in my past "one-night stands."
Shockingly, I realized I never considered some of these encounters to be the classic "one-night stand" as portrayed in the media. Which is, what exactly?
Here's the Classic Hollywood Movie Scene: Guy meets girl in a bar. Both are drunk or tipsy or at least socially lubricated. Guy takes girl home and sleeps with her. Girl leaves the next morning under awkward circumstances. Both don't really remember the sex and feel weird. The End. Yikes.
Let's rewrite this script, shall we?
Take two: A babe meets a cutie in a coffee shop, on the train, in a bar, at a networking event. Strikes up a conversation. Discovers the other person is intriguing and open to a sexual experience. The two travel to someone's abode or safe/fun place to have sex. The experience is mutually beneficial, hot and wonderful. They discuss boundaries, communicate their needs so they are met, and leave the encounter with clear expectations of either continuing a dialogue or parting in a positive way. The end.
Let's break down the elements of this healthy and connected one-night stand, so you can have them too.
Sexpectations
I've had one-night stands (or rather afternoon delights) turn into long term relationships. So, even though the definition of a one-night stand implies that the relationship begins and ends in one night, don't discount the idea of future contact.
On the other hand, you have to be prepared that you may never see this person again, since the implied "contract" is to simply sleep together. Don't go into the encounter expecting more. Be open to possibilities, but make sure you communicate what you are both expecting from the experience. A shared understanding of what this sexual dalliance will be and mean is crucial to successful casual sex. Difffering expectations and confusion aren't sexy.
Some of the best one-night stands can occur while traveling. I had a French lover while visiting Paris. It was automatically implied that we wouldn't be seeing each other again because we didn't live in the same place.
Safety Precautions
Going home with a stranger or someone you don't know very well is risky. Make sure you have enough conversation with the person first. Get to know them, what they do for a living, where they live, what their friendships are like, their interests, learn as much as you can. I realize this doesn't sound as sexy as just being rapidly swept off your barstool and into the bedroom. However, you should get enough information so that you can trust your gut about this person you're about to trust with your body.
Tip 1: Text a friend with the full name and address of your one-night stand. Let your friend know what's up.
Tip 2: Don't drink too much! There is no sense in having a wonderful sexcapade if you can't remember it. Moreover, you don't want to be taken advantage of. Consent is always key.
Tip 3: If you are going to someone's place, make sure to get the lay of the land. Know your environment. Keep your phone fully charged and close by just in case.
Tip 4: Make sure you ask about STI's and sexual health. Use condoms and condom-safe lubricants like the water-based lube, Aqua by Pjur.
Playfulness
If there is an element of playfulness, then the encounter can be considered a success. There should be mutual respect and boundaries. Within that – play. Have fun!
As my friend says, "There can be intimacy but it's a temporary and playful vibe. Like when you go watch a movie, you get into it as much as you want, but it's understood that you will leave the theater when it's over."
Connection
There is a fallacy around how intimate and connected you can be with a stranger. The implication is that you can only be meaningfully intimate inside a committed relationship. I have found this not necessarily to be the case. There are times you can be even more vulnerable with someone you know less. Perhaps because you have less to lose and can feel the freedom of the moment.
The majority of what a relative stranger knows about you is what is happening in the moment – the curves of your body, the smell of your cologne, the sounds you're making. It can be an incredibly erotic and bonding experience to be in that state of discovery without past judgment or baggage.
The way to have a healthy connection in a one-night stand is to stay present to your pleasure and receptive to your partner. Continue to check in with yourself as to your needs and desires and if they are being met. Maximize your pleasure by busting out your fave sex toys, like your womanizer. Focus on your partner, but also how you are feeling. Take your time – you could always use a delay spray if you want to last longer.
Let it be intense and connected. This is something you are choosing for yourself. Give yourself the gift of this encounter. Do some eye gazing. You can learn a lot about someone simply drinking them in through your senses.
It's all in the dismount
You both just came. Hopefully, the ejaculation etiquette was on point. You are lying there breathing heavily in a state of post-coital bliss. Until it hits you…ok, now what? Do I stay? Do I kick them out? Will there be cuddling? Do I have to hold them all night?
Awkkkkwarrrd.
This is where a sense of humor can come in handy. Try to make light of the awkwardness and you can even comment on it so that it gets diffused.
If you played your sexpectations right, you will know by now what your partner expects for sleeping over. But if that wasn't covered, you can simply ask "Mind if I sleep over?" or "Were you thinking of staying over?"
If you are hosting, and you do want them to sleep over, invite them. If you really don't want your partner to sleep over, be honest and polite, but don't be abrupt about it. At least offer something to eat or drink and a chance to collect themselves. Share with them what you really enjoyed about the night.
If both parties don't plan on maintaining any kind of communication, that's ok. Say your goodbye in a way that honors the fun you just had, while also establishing a boundary.
I always, always appreciate a follow-up text after coitus. A simple compliment does the trick "You're hot! Thanks for a fun night!" or "Nice to meet you. Thanks for making my night!" Something to the effect of this being a temporary but thoroughly enjoyed occurrence.
Story time
Don't get butthurt if you don't hear from them again. They have a right not to maintain contact with you. So do you. Regardless, you can keep the sexy memories forever…I find that relaying the events of the evening to my friends is half of the fun. It helps keep the night in perspective in case you are starting to feel like you're catching feelings.
So, the next time you are tempted by the hot person staring at you from across the room, keep these tips in mind for a happy, healthy and prosperous one-night stand!
---
Emily Anne is a bestselling author, sex coach and educator, who specializes in helping people expand their sexual horizons through BDSM and kink. When she's not obsessively talking about sex, she's hiking through the Hollywood Hills. Get some sexy education on her Instagram feed!