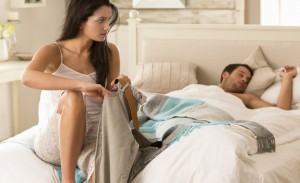 Dear Emily,
Lindsay here from Los Angeles. I love your show and following your tips has truly helped me have the best sex of my life.
I've done something that I know is wrong, I went Snooping. Reading my boyfriends emails and texts. I was hurt so badly in my last relationship that I look at this as an insurance policy. To my pleasant surprise, everything is pretty clean. However, I've discovered a couple small lies. One evening he said he got a ride home from work with his friend Mike. Turns out, it was with a female co-worker I've never met. There's also been some flirty emails with past lovers that don't lead to anything, but he never just stops it with "Hey, I HAVE a girlfriend now."
I obviously can't bring up the snooping, and he hasn't broken any rules, but this doesn't exactly make me feel secure. Thoughts?
Love,
Lindsey Continue Reading