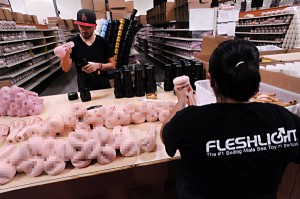 If you're the proud owner of your very own Fleshlight, I'm guessing the only "coming" you're concerned about is probably your own. And who could blame you? With it's patented skin-like material, unique suction-controlling design and discreet appearance, the Fleshlight is truly a stroke of genius (ha ha) and is a must-have for any guy! But did you ever stop to consider how the #1 selling sex toy for men came to be?
They say to invent and sell a worthwhile product, you have to create a problem and then solve it. Well back in the early 1990's, Fleshlight inventor Steve Shubin, was not expecting to be the most successful man in the male masturbation industry. He really just wanted to have sex with his wife. But upon learning that his wife could not have sex with him for the duration of her pregnancy (which was in its first month Steve realized that he did, in fact, have a problem.
Looking at a long 9 months of no sex, Steve found himself searching for some way to satisfy his sexual needs. He asked his wife if she would be creeped out if he found something to replace her sexually; they both had a good laugh about it, but the idea had already taken root, and was beginning to grow into a pretty damn good solution.