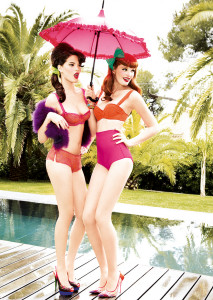 I know some people are really big fans of the holidays, but I have to say that spring has always been my favorite time of year. The sun is shining, the flowers are blooming and people everywhere get to trade in their oppressive winter coats for flirty sundresses and t-shirts… Ahhh the simple pleasures in life.
Besides the sexy new style options, one of my favorite parts of this season is the way it makes me feel, like anything is possible! Whether it's an unexplored hobby, a budding romance or an ambitious new fitness routine, spring is well-known for being the season of fresh starts and new beginnings. That's part of the reason why so many of us suffer through spring cleaning. There's nothing sexy about 6 hours of concentrated decluttering—No, we do it for a much different reason. We clear out the old junk, both literal and figurative, to make way for better habits and the promise of new experiences.
So maybe you've done your share of spring cleaning already. You've re-organized your cupboards, cleared out your closets and even done some light tidying up in your love life, but there's one area you may have overlooked: your goodie drawer.