A Tale of Two Wands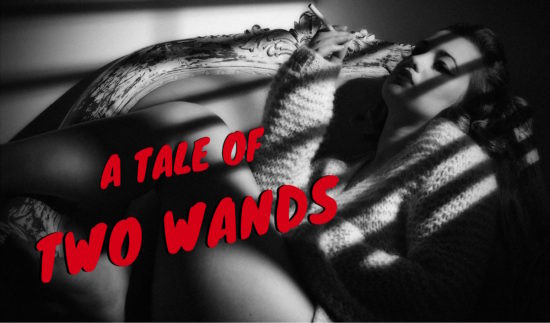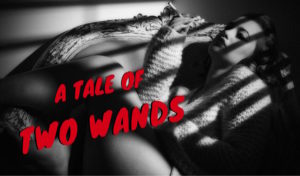 It's raining in Los Angeles. And it's coming down hard. Out on the sopping wet streets, I can hear the crescendo of passing sirens getting louder and louder, then quietly fading to nothing. It's probably cops. A lot of us Angelenos go kinda crazy when the weather gets like this.
I know, I do.
My lover telephones to say, "Sorry sweetheart, I won't be able to make it." (Well he sent a text, but you know what I mean).
I'm already climbing the walls when I get the news I'd be riding solo. And there's no sign this rain is letting up anytime soon. The city is soaked but there's an electric pulse in the air that makes your whole body hum with anticipation. A storm is coming in.
What's a girl to do on a mad night like this? If you think I should watch a movie or curl up with a good book, then you don't know what kind of a dame you're dealing with.
No. There is only one thing to do. Well, two things to be precise… two very special things. And this is their story: a tale of two wands.
I light four candles on the dresser. The power hasn't gone out or anything, I'm just feeling fancy… especially in this slinky lace number. I recommend everyone try dressing up for oneself every now and again. All too often when it comes to self-pleasuring, we neglect the pleasure part. Sneaking off to the shower or bedroom to run through our trusted techniques or favorite toys trying hastily to climax before buttoning up and returning to some other task. Well not tonight.
In the same way mood lighting and clean sheets can set the tone for better lovemaking with a partner, they can service you alone too.
Sauntering over to the bedside table I pull out two distinctive wands. To the untrained eye, these devices may seem all but identical. However, there are unique facets to explore between the Mystic and Magic wands. A sudden gasp of wind eagerly rattles the trees outside. The branches tremble as I reach for the first wand.
We're going to start with the Mystic Rechargeable Wand. Not because it's a beginner's toy or just for foreplay (though it is great for that, too). I'm starting with the Mystic because I can't keep my hands off it. And lucky for me, it's all juiced up and ready to go. Of course, one of the amazing things about this hot body wand is the "plug and play" option so you never have to miss an orgasm.
The body of the splash-proof wand is curvy and inviting. The weight of it is formidable but not so heavy that you can't deftly switch positions and angles whenever you need to. Speaking of angles, the Mystic even contains two sets of buttons because some wonderful genius at Vibratex thought of just about everything. There are three unique settings and three incredible intensities.
With most toys (containing 10+ intensities), I have no idea what their first few pulsations are like because I scan ahead to get to the good stuff, preferring more robust stimulation. However, when it comes to the Mystic's three distinctive speeds, each one is powerfully pleasurable. It's easy to increase and decrease the strength of the vibration. It's exciting to move from one incredible pattern to the next, and then back again, until finally working your way to an explosive clitoral orgasm.
But this is not the climax of this story. At least not the only one…
It's still coming down out there. The candles flicker as the thunder let's out a low moan. I reach for the iconic Magic Wand.
Most inanimate objects are just things around the house we can use and take for granted. They serve a purpose but the toaster and the vacuum cleaner are just things. They are not Magic. But my wand is. TIME even awarded the Magic Wand Original a spot on the Top 10 Most Influential Gadgets of All Time.
Boy oh boy, this is one formidable apparatus.
This is not just a sex toy this is the sex toy. The bulbous head of the wand is supple. It's about the size of a tennis ball, giving a perfect fit against the outer labia, as incredible power resonates for clitoral stimulation. Whether or not you use the original wand that plugs to the wall for unlimited power or the cordless rechargeable for boundless freedom of movement, the vibes ignite full-bodied ecstasy.
Lightning flashes, illuminating the room. The storm outside is loud, camouflaging the involuntary sounds of pleasure coming from this author. I recommend you play music when you use your Magic Wand. The vibration is quiet, but you might not be with four intensities and patterns, each one more powerful than the next. It's easy to find the right rhythm. The rhythm you writhe against, leading to an explosive orgasm.
The Magic Wand puts a spell over every fiber of your being. It works you up to a larger than life, throbbing, magnanimous climax. If orgasms are like earthquakes then this is the big one. You may even feel delicious aftershocks as you lie in post-orgasmic bliss.
The rain softens against the steamed windows. The City of Angels falls quiet.
In the city of Los Angeles, it's all too easy for a girl to get accustomed to blue skies and sunny days. But every now and again, a storm takes over. It rages and the night gets wild.
It becomes a mystic, magic, and truly unforgettable night.
---
Stephanie Salyers is a writer and producer living in Los Angeles. Though she now works mostly in pop-culture and entertainment, she began her career as a sex educator, writing and conducting seminars for thousands of people across the U.S. For Stephanie, writing with the Sex with Emily team gives her the best of both worlds! For more from Stephanie, follow her on Instagram & Twitter…