Talking STI's With Your Boo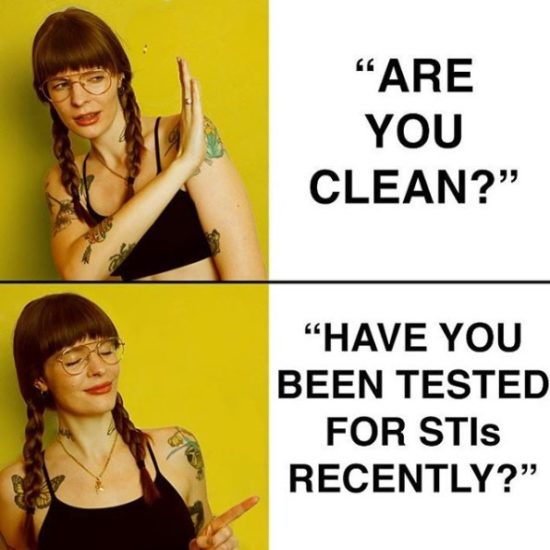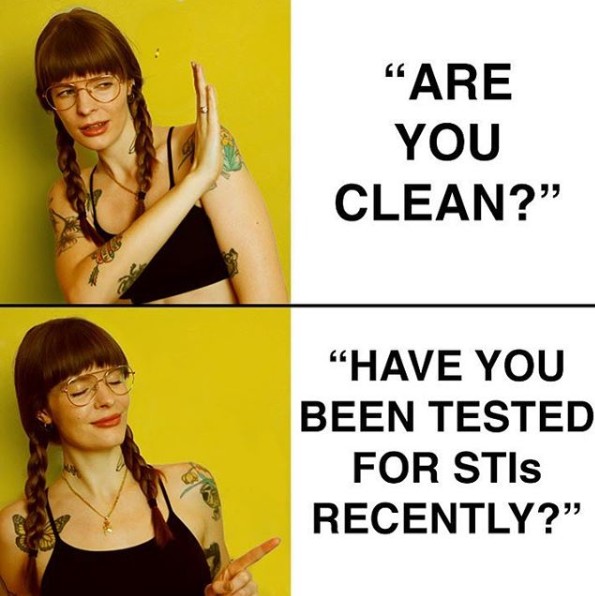 Even though we should be in the know about these pesky plights year-round, April marks the official occasion of STI Awareness Month.
Because 20 million people contract one each year in the U.S. alone, protecting each other's bodies should be at the top of everyone's to-do list.
Which often begs the question: how do I bring it up?
Goodbye stigma
With great pleasure comes great responsibility—something which can easily get tossed out the window due to stigma, embarrassment, and just not knowing how to tackle the subject with a partner. Although we're happy to report that with the help of a few key pointers, we can all finally kiss the historic shame surrounding this conversation goodbye.
Communication, always.
When in a relationship, there's nothing more frightening than the phrase "we need to talk". However, when it comes to the topic of STIs, it's one of those awkward, yet necessary conversations to embrace. Since everyone's situation is different, there's never a single, definitive way to go about it. However, a few overarching tenants can help make the process as painless as possible.
If we're talking about someone you are (or are about to be) intimate with, don't be afraid to broach the subject in the first place. Having the talk goes to show you're looking out for one another, rather than passing judgment. Bringing it up kindly can help ease the mood, and reassure them you're trying to take care of each other's health.
No one can expect it to be a particularly "sexy" conversation, either, so being straightforward and to the point comes with the territory as well.
Disclosing Your Status
While it certainly doesn't have to be first-date fodder, it's always good to be frank about the sexual health status discussion. So like a lot of sex-related conversations, it's best to chat in a casual setting outside of the bedroom, and at a time you aren't rushed or distracted.
Since we all know how quickly the heat can dial up, it's important to get the deed done ahead of actually hopping into bed together. If it's someone you're about to start a new relationship with, the topic might feel more natural, but it's best to bring it up sooner rather than later to get a peace of mind. But if you're on the verge of a one-night stand, then you have to bite the bullet and find a way to pose the question right off the bat. Even if you're dealing with an unserious hook-up or FWB, never doubt it's just as valid of a question to bring up – and still can be done without killing the "casual" mood.
Although it might sound obvious, you also want to make sure you know your own health status before bringing it up to someone else. Leading with your own standing can be a less intimidating way to kickstart the conversation – much like following it up with the suggestion of going to get tested together, too.
The Importance of Language
Amidst the big discussion, the terminology is something to be super mindful of as well. Even though words like "dirty" and "clean" are unfortunately common descriptors of one's sexual health status, it's important to realize the true impact of semantics. Armed with vibes both negative and absolute, these terms perpetuate shame surrounding STIs, which then fuels the cycle. Terms like these discourage people from talking about them at all.
So rather than giving into the notion of cheap language and other stereotypes, let's instead change the narrative to something productive, such as "have you been tested recently?"
###
Sure it may feel awkward, and we usually don't enjoy doing it, but having the STI talk with your partner is something that simply needs to be done. So be calm, stay positive and just remember that at the end of the day, a pair of happy, healthy bodies is worth all the initial awkwardness in the world.
---
Alex Anderson is an LA-based lifestyle designer proactively raging against the cultural grain. By day she works in television production, and by night enjoys writing, sewing and seeking guidance from the stars. She also finally has an all black kitty named "Cher." You can follow her website and on Instagram!