Teasing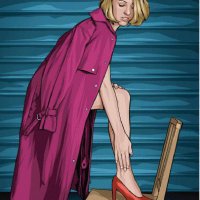 Teasing is the classic way to start up something steamy– and the longer you savor the suspense, the better. The sexiest teasing sessions draw on all the senses.
Here's an excerpt from my book Hot Sex: Over 200 Things You Can Try Tonight on teasing because teasing can be incredibly sexy when it's done right…
Linger in your lingerie.
The temperature is rising, and by now you're getting hot and heavy. The natural impulse is to just rip each other's clothes off and go wild.
Instead, keep the tension building. Once you take it all off, there's only one thing left to do. Making he most of the delicious moment just before sex will bring your arousal levels to a fever pitch.
Humans are visual creatures, so take a moment to appreciate how your looks when nearly naked.
Run your fingers over erogenous zones, letting the texture of the cloth amplify your touch. Slide your fingers under waistbands and straps– but not too far. 
Undergarments create just the right amount of obstacle to intercourse (unless of course you just slide them to the side and have sex without getting fully undressed, which can be a really hot move).
Before you remove those last little pieces of fabric, kiss and touch everywhere else. Build up the excitement with eye contact and erotic talk until you can't stand it any longer and absolutely must move on to the main event.