Ten Kinky Candies at Your Corner Store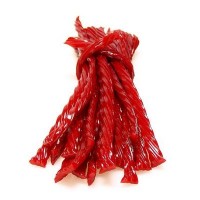 *Disclaimer-   The below items are only intended to be used for flirting, ingestion and maybe a sex game or two.  Sugar inserted into crevices can lead to infection.   Go to a specialty source, such as Nature Lovin' Lubricant  if you want to experience a raspberry cheesecake or banana custard flavor down there.  Also, note that fat and calories in each product are essentially negligible and will be more than worked off in the act.  No worries about staying svelte!
1.  Blow Pop-  pretty obvious.  Unless you or the object of your affection has an alien fetish, would advise against the sour apple flavor— no green lips.  Cherry and strawberry red are highly recommended.
Calories- 60; Fat- negligible
2.  Candy Necklaces-  whether it's you, your partner, or a third party eating the circles of sugar from around the neck; things are sweet (and hot).  Rainbow colors good for gay pride.   Calories – 90; Fat- negligible
3.  Red Hots- spiciness brings about arousal; but sometimes the after effects of eating Mexican are not good for a date (or a hook up).  Capsaicin, the source of spiciness, triggers endorphins, which heightens sensations of pleasure—very, very good for very, very good sex.
Calories (1 red hot)- 3; Fat- negligible
4. Dark Chocolate, and, we are not talking about Tyson Beckford…
While a box of chocolates can always make a girl smile, historically and scientifically dark chocolate is known for its carnal benefits.  The ancient Mayans and Aztecs revered dark chocolate for its powers of erotic stimulation.  Alkaloids in dark chocolate, including phenethylamine, increase brain serotonin levels which heighten levels of pleasure. After eating chocolate the body produces dopamine, the brain chemical that surges during orgasm…for both men and women.  No reason to worry about calories.
Calories (1 block)- 74; Fat- 4.5 g.
5.  Candy cigarettes (yes, I maybe criticized for this suggestion; but, cigarettes have long held sexual symbolism in western culture)-
"The cigarette that bears a lipstick's traces" has as much power as an airline ticket to romantic places in giving the heart wings, lyricist Holt Marvell divined in 1936.  When Marlene Dietrich held a cigarette in any of her films, the prop was a phallic symbol implicit in projecting an image of bisexuality.  Sex symbols of old Hollywood loved to smoke.   So, if you are of appropriate age to have sex, there are certainly no restrictions on smoking candy cigarettes.
Calories- 48; Fat- negligible
6.  Pixie Sticks- Open them for a quick hit of sugar for a romp, suck on them, and, oh yeah, the insides have sexually charged "disco dusk" connotations.
Calories: 60 calories/7 sticks; Fat: 0 g.
7. Watermelon Masque–  Okay, so this has no calories, so maybe cannot even be considered a  "candy," but eat /use/dissolve as many as Your Masque you want. Not only is the sweet, fruity flavor there but also a minty taste.  Kind of like Listerine strips, except designed for fellatio.  According to instructions: "Allow strip to dissolve completely on your tongue immediately prior to or during the act of fellatio.  Flavor and taste-masking lasts up to ten minutes."  Watermelon flavor with no calories used for sex?! Can't be beat.
Calories: 0, Fat: 0
8.  Chocolate coins- Useful if the sexual target has an aspiration for bling; or, if  the target is the nice "Jewish-Boy" and his Hannukah "Gelt."  Chocolate coins also are useful for a strip poker warm up before the tequila sets in.  A nice substitute to provoke the drunken Gold Digger
Calories (per coin): 31, Fat: 2 g.
9.  Mints- Have to have them on the list to mask the breath.  Choose 'em over gum which can get noisy, cow-ish and secretary-like.  Plus run the risk of ruining a bed or a partner's hair.   Sucking on one before fellatio adds a zing.
Calories: 22, Fat: 0 g.
10.  Twizzlers Pull 'n' Peels-  Great for dangling, sucking, and turning lips red.  Props go to the Pull 'n' Peels over the Twists.  The innuendo is there— you can individually strip 'em off.  Plus, each strip multitasks as a whip and a candy.
Twist-  calories: 160, fat: .5 g.;  Pull 'n' Peel- calories: 110, fat: .5 g.