6 Reasons I'm Thankful For Porn… I Think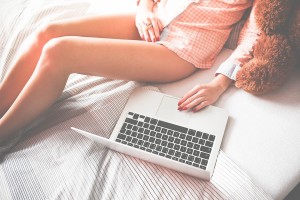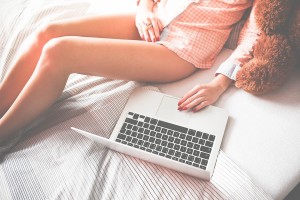 I've been interested in sex and sexual images for as long as I can remember.
At a young age, I studied nude photos in National Geographic magazines. I drew pictures of naked bodies together. I would look at my own naked body, and imagine myself in sexual situations without even knowing what sex was.
So naturally, when it became available to me, I began to watch porn.
As a woman who likes porn, I often feel like an enigma. From what I gather, I watch a lot more porn than the average woman. I watch porn regularly, and I enjoy a diverse variety of porn. While I masturbate to it and I like it, I also hate it. So I guess this is actually a lesson in duplicity.
The battle of mind and libido
My attitudes toward porn are wildly contradictory and deeply conflicted, because porn has, with its increasing prevalence, become more extreme, brutal and dehumanizing to women. I like the fact that porn doesn't intimidate me, and I feel proud that I am sexually open and aware enough to enjoy it on a personal level.
I am grateful that it motivates and amplifies some of my most memorable orgasmic moments. But porn is also largely degrading and violent, promoting themes of control, exploitation, and a man's ownership and right to women's bodies sexually. Which is in direct opposition with my sentiments as a strong, independent, forward-thinking woman.
This is where the cognitive dissonance comes into play — How can I indulge in the sexual satisfaction porn brings me while still upholding my pro-female ideals?
The history of porn
The explosion of porn lines up chronologically with the explosion of the world wide web. With the birth of the internet in 1995, porn inevitably made a crossover from print and video to internet availability. At first, the internet only offered "free porn" in the way of galleries of thumbnails and 5-8 second preview clips which redirected you to a pay site.
In 2005, when YouTube launched, it was inevitable that someone would start a pornographic equivalent. "Tube" sites began to pop up left and right in the cybersphere. These search engine style porn sites offered free (often pirated) porn in different categories, lengths, levels of production value and subject matter.
The accessibility, availability, volume, and variety of porn increased by an immeasurable amount. 30% of all data transferred across the internet is porn. Post-millennials are the first generation to grow up with porn being their first and main exposure to sex, making porn an integral part of what forms the sexual psyche and the behavior of our younger generations…unfortunately, to a fault.
I'm Thankful For Porn… I Think?
I'm grateful for porn, but I'm not entirely sure I'm happy that it exists. I feel about porn the way I feel about mainstream hip hop: I love to dance to it, but hate the lyrics. For me, porn has a time and a place, and in our society, it has a lot of room for improvement.
It almost always makes me come. However, I'm not so much thankful for the orgasms it gives me as much as the lessons it's taught me. I've learned a lot along my ongoing porn journey.
Here are a few knowledge nuggets I've gathered thus far:
1- Don't Feel Guilty
For most of my life, the glorious satisfaction of masturbation and the ensuing orgasm were always closely followed by a tidal-sized wave of immense guilt and regret. When I started integrating porn into my self-pleasure regime, the guilt increased tenfold, becoming almost unbearable.
In retrospect, I attribute the majority of my masturbatory guilt to my strict Catholic upbringing. At the time, my orgasms and shame were so closely connected that I was sure there had to be a biophysical explanation for my feelings of self-reproach. I was very wrong. Although feelings of guilt are very common, there is absolutely NO biological or scientific correlation between guilt and porn/masturbation. If you feel shame about watching porn or masturbating, it is because you are motivated by societal, religious or personal value sets.
Masturbation (and by extension, pornography) is a completely normal activity to engage in. More so than normal, it is actually good for you! Creating your own orgasm releases oxytocin, serotonin, endorphins and a whole barrage of other feel-good chemicals into your body increasing energy, blood flow and overall well-being. So unless it's negatively affecting your relationships, your productivity, or your life goals, DON'T FEEL GUILTY for watching porn, you're only human!
2- What Turns You On
There are so many different kinds of porn to choose from. From BDSM to group sex to footjobs to hentai, there's a spankable snippet for all porngoers no matter the level or scope of fetish. At the start of my porn viewing career, I stuck to the shallow waters of softer core lesbian stuff.
This type of porn is the foundation of my masturbatory preference. I learned that I liked to watch kissing, and I loved watching cunnilingus between two women. As time went on, however, I found my arousal level going limp. I needed more stimulation to get off, so I would surf the porn channels clicking on categories I would usually never go near. Discovering new sexual interests (and repulsions) that have carried over into my active sex life.
This phenomenon is something that happens to some people who avidly watch porn. At a certain point, your norm just isn't enough. Stuck in a stimulation cycle, and committed to your masturbatory mission. You've become accustomed to instant sexual gratification and you need something more extreme, more fetishized. Unfortunately, this leads many people down the path of watching porn depicting the misogynistic, violent degradation of women. It seems almost like the sites are steering us toward this brand of porn, knowing that traditional sex acts eventually wouldn't cut it.
3- Porn is NOT Real Sex
The universal stockpile of internet porn is a modern-day collection of sexual mythology. Rivaled only by that of the Ancient Greeks and Romans. Sadly, the overall potpourri of porn available to us is largely exaggerated, novel in nature, and sprinkled with only tiny morsels of accuracy.
According to my extensive research, not all men are hung like a Pacific walrus. Not as many women like to be slapped in the face during a blowjob. Not to mention, simultaneous orgasms are as hard to come by as a kitten that barks.
Although, based on an actual bodily function that most of us participate in at least once in our lives, pornography is nonetheless a section of the entertainment industry. Just like reality television, it is just BASED on real life, then tweaked, edited, reorganized and polished into a shiny unblemished ideal of its original inspiration.
This is problematic for young people whose first exposure to sexuality is internet porn. Young men are growing up thinking that women WANT what porn women want. Young women are growing up with expectations of sexual objectification. Porn in and of itself isn't so bad, as long as we all learn how disparate it is from sex in real life and regard it as exactly what it is: ENTERTAINMENT. Once more for the people in the back, porn isn't sex education.
4- Share the Porn Love
If you have a steady sexual partner, don't be afraid to integrate your porn interests into your relationship. Porn shouldn't be your "side" boo. Keeping sexual secrets from your partner is a surefire way to create a rift in your relationship. It breeds jealousy and resentment.
Enjoying porn with your partner is one of the most effective ways to change up your stale sex routine. You can watch it together and engage in mutual masturbation. You can watch a scene and then reenact it in roleplay fashion. Try leaving it on while doing the dirty for some sexy background noises.
Men often react largely to visual stimuli, making porn the most popular masturbatory device among them. Women (although we love to look) are usually more aurally stimulated by porn. The sound of the sex turns us on.
So, don't be afraid to bring porn into your communal bed, because there's something in it for everyone!
5- Let's Talk About It
Now, more than ever, we need to have healthy conversations about sex and masturbation. The idea of porn is less and less taboo every day. Sex is capitalism's best friend, and sexual imaging is inescapable within our country's collective consciousness.
It's imperative that we watch porn with a critical eye, and choose ethical porn as often as possible. It doesn't have to be the big bad wolf of male chauvinism. It can still be utilized and practiced in healthy ways. As long as we treat it as what it is: just entertainment for entertainment's sake.
Porn and people can live in horny harmony. As long as it takes a back seat to real life sex and love, and we're talking to our youth about healthy sex practices.