The Gift of Sex-Giving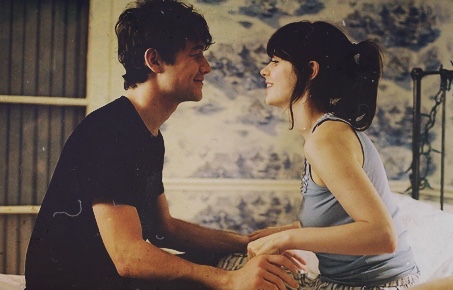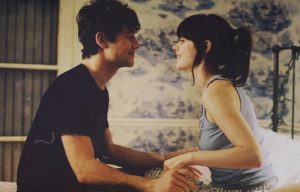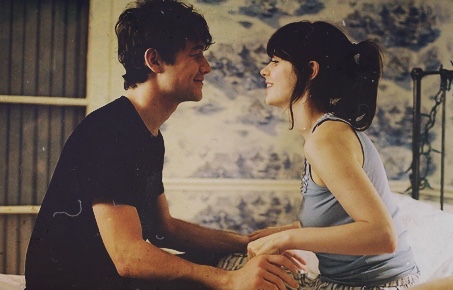 The further we get into November, the more I am reminded of why I love this time of year so much. No, it's not the descent into deliciously chilly fall weather (it was 87 degrees in LA today). It's not the arrival of all-you-can-listen-to Michael Bublé Christmas covers. And it's definitely not the non-denominational, but oh-so-controversial, holiday cups at Starbucks.
No, the reason I adore this month above all others has more to do with the upcoming holiday—or more specifically, what that holiday represents.
As a child, Thanksgiving was this magical holiday where family comes together over an extravagant meal of turkey, cranberry sauce, green bean casserole and a smorgasbord of carbohydrates (just like the Pilgrims used to do it, am I right?) and we all give thanks. We express our gratitude and appreciation for those we love the most. We celebrate the act of coming together, much like our forefathers did with those wacky Indians… At least, that's what our 3rd grade teacher told us, but that's beside the point.
While the history behind Thanksgiving eventually gets swapped out for a much less Hallmark-y tale, the good feelings remain the same. At its core, this is a holiday about love, appreciation and gratitude. It's about, well, giving. And that is a lesson that people of all ages could stand to be reminded of from time to time.
Lately I've been thinking a lot more about the giving side of things—especially in relationships. I know we all have a tendency to focus on our own satisfaction first and foremost. Maybe it's bad habit leftover from our single days, maybe it's a bad habit we fall into over time. Either way, we start to lose sight of the "give" portion of "give and take". We worry so much about not getting what we want, as often as we want, that we forget we're not the only ones in the bedroom.
Of course your pleasure should be a priority; more than that, it's actually your responsibility to make sure that your needs are getting met. But much like relationships themselves, sexual satisfaction is a two-way street. And as surprising as this may be, sometimes the giving can be every bit as satisfying as the receiving—especially if you know what you're doing…
It's time to take a step back from worrying about "getting" and focus instead on giving—Giving our partners what they need, emotionally and sexually, and trusting that it will help to enhance intimacy and help us become better lovers. Whether this means surprising your partner with flowers, just because, surprising them at the door wearing their favorite sexy outfit, treating them to a sensual full-body massage or treating them to an hour of no-strings-attached oral, there are endless opportunities to show your partner how much you value and appreciate them.
Not currently coupled off? No problem. You don't have to be going steady with a lover in order to show them a little TLC. And hey, while we're at it, I'm sure we can all stand to give a little more pleasure to ourselves as well.

So let's do this together. Starting TODAY, November 15th, we're getting you into the giving mood with 10 Days of Sex-Giving. That means 10 days of blogs, videos, giveaways and more, all dedicated to helping you give as good as you get. At the end of the 10 days, we'll be rewarding YOU with a handful of top-secret Black Friday deals on some of your favorite sex toys and products!
And the giving doesn't stop there. In addition to some very hot Black Friday discounts, we're also giving away 3 pleasure-packed prizes to 3 lucky people. To enter, all you have to do is tell us the one thing that you want to give to a partner!
Is there something you've been holding back in past relationships that you know has been missing? Is there something you want to learn to master so you can share those skills in the bedroom? Perhaps there's something you've just been a bit too busy, too distracted or too lazy (hey, it happens to the best of us) to try out that you know your partner would love. We want to know! Send your act of Sex-Giving to Feedback@SexWithEmily.com.
At the end of the month, we'll choose 3 submissions to send a sexy gift, from us to you. This month, we're giving away a We-Vibe Tango, a Fleshlight Flight AND a sexy S&M kit from Sportsheets…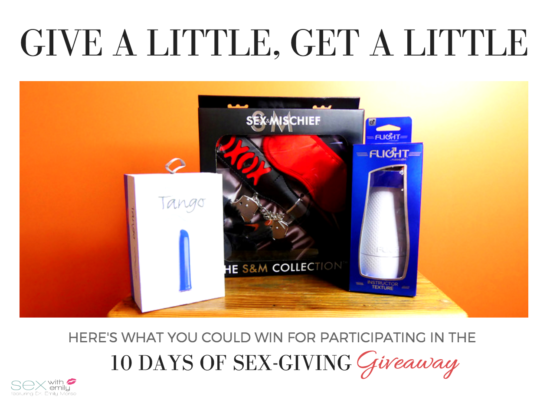 Don't forget to follow us on social media and check the Sex With Emily website daily for tips, tricks and advice on all things Sex-Giving!