The Gift that REALLY Keeps on Giving: Hotter Sex for the Holidays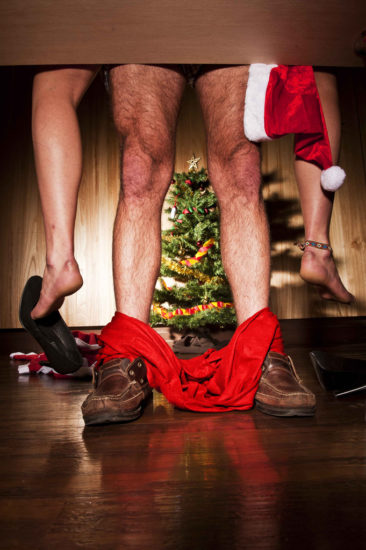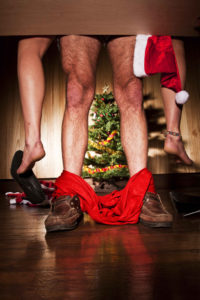 The holiday season is now upon us, and with it comes that inevitable heaping of holiday madness. What was once the most wonderful time of year has now become the most draining, between the parties and the gifting and the time spent with extended family. And despite what Hallmark would have us believe, the holidays are not so hot for our personal lives, either.

Stress (a common symptom of this season) is the one of the greatest killers of our sex drive, which might explain why so many of us experience a noticeable dip in sexual desire around this time of year. We get so caught up in making the season merry and bright that we often forget to pay the same amount of attention to our sex lives. We put sex on the back-burner in favor of other (less favorable) holiday activities… You know, like spending four hours trying to find parking at your local Hellmouth—I mean, mall.
Considering the fact that, roughly 11 months out of the year, most of us put hotter sex at the top of our wish list, why should December be any different? Especially when one of the best ways to combat stress is—believe it or not—to have MORE sex.
Instead of putting pleasure on the back-burner this season, what if you made it as much a priority as ugly Christmas sweaters at your company's holiday party? What if you took this time to reconnect with your partner and explore new bedroom activities, rather than new recipes for vegan eggnog? What if you skipped that 11th viewing of Elf to create a hot little holiday film of your own—one that definitely isn't suited for cable. It would be cheaper than a Xanax prescription, that's for sure!
Starting today, all the way until Christmas Eve, the Sex With Emily team is gifting YOU with something we think you really could use: Hotter sex for the holidays. No, we're not going to show up at your house in the middle of the night with a sack full of toys (well, probably not… we'll think about it.) What we WILL do is provide you with 10 days worth of sex tips, intimacy advice and gift guides to help you have a holiday season that is pleasure-packed, stress-free and maybe just a little bit kinky!
And since it's the season of giving and all, it seems only natural that we'd throw in a giveaway… or three. If you haven't already, take the Sex With Emily end-of-the-year survey. Submit your email for a chance to win one of three special gifts, then check our blogs posted each day to find out if you've won, and what you've won!
A little something to keep in mind—underneath all the tinsel, candy and yuletide panic attacks, the holidays are really just a chance to spend quality time with the ones you love. If you both happen to be having an orgasm at the time, so be it!