The iPad Case That Loves You Back..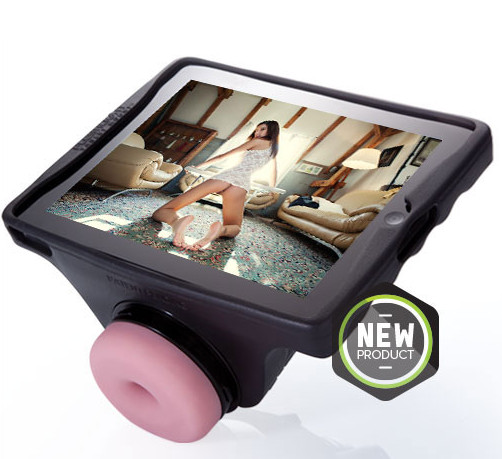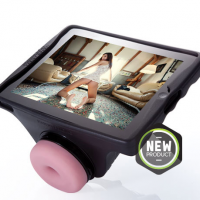 Masturbation has certainly come a long way from the days of tube socks, tissues and store-bought hand lotion. Nowadays, there are a plethora of products to help both men and women get their rocks off in a quicker and more enjoyable way. And when it comes to male toys, it is safe to say that Fleshlight stands out as a front-runner of the industry, currently holding the title of the best-selling sex toy for men.
The folks at Fleshlight have kept up the good work by turning out a variety of accessories to further enhance the male masturbatory experience: They brought you a shower mount, a phone strap, and have recently announced another new Fleshlight companion to help make your self-loving sessions even more enjoyable. It is called the Fleshlight LaunchPAD, and it is legendary.
The LauchPAD provides users with a "new perspective on penetration", creating an even better way to appreciate Point-of-View pornography . It enables users to visually enjoy whatever is playing on their tablet, all the while experiencing the pleasure of the Fleshlight nestled underneath. The LaunchPAD takes cyber sex to a whole new level, too! Imagine FaceTiming your long-distance lover, and as things start to heat up, you are able to enjoy your Fleshlight without ever taking your eyes off the screen.
Just when you thought that masturbation couldn't get any better, Fleshlight has stepped in once again to up the solo pleasure game. Users can either keep their LaunchPAD stationary, for some hands-free practice, or can use the hand grips on either side to take control. Either way, it is a whole new way to masturbate!
Check out this (sadly) SFW video to see how the Fleshlight LaunchPAD can improve your masturbation experience! Then go out and get your own!
Can't get enough Sex With Emily
Subscribe on iTunes and never miss your bi-weekly Sex Ed!