The Naughty List: A Gift Guide for the Not-So-Nice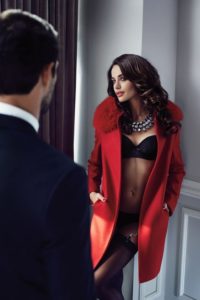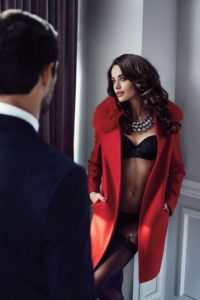 Ah the holidays! What fun it is to ride and grind against that someone special. We know Santa comes when you've been good, but who comes when you've been bad… very, very bad? I do. It's me, "Bad Girl Santa." I know I don't have a beard that's white as snow, a sled, or eight tiny reindeer, but hey, I've got the boots and the crop so let's get this XXXmas party started.
With our holiday nights filled with cheese snacking, flannel wearing and merrymaking, December can go by in a flash. Suddenly, you and your partner realize you didn't get what you really wanted—a few nights of unadulterated passion. I get it! It's so easy to forget how crucial it is to stick to your sexual schedule. But we're about to fix all that. This year is the year you and your lover can exchange orgasms, give lots of pleasure, and share in steamy reverie. This year… You are giving the gift of festive, kinky, playful sex.
Welcome to the naughty list, where you'll find all the things you need to give your partner wild nights of kink. Holiday sex should be like vacation sex… a little more wild, with a few more accessories and some butt stuff… definitely some butt stuff.
Ho, ho, ho!
Sternum Body Harness by Cantiq
Kinky play can begin with a simple twist that turns the ordinary into something extraordinary. For example… that ugly holiday sweater you wear every year – layer it over a Body Harness from Cantiq. These harnesses look amazing with or without lingerie. The satin against your skin is a gift in and of itself, but met with the surprise in your lover's eyes when you reveal it, well that's everything. The elasticity keeps the fit flattering and comfortable. These gorgeous handmade accessories are also great for wrapping the real gift – you! (Get 15% off when you use code WEHEARTEMILY at checkout)
---
Door Jam Sex Sling by Sportsheets
Sometimes after a little Hennessy and eggnog, the best thing to do is take a break from swinging to Christmas jams and start swinging from the door jam, aka the hottest rendezvous spot in the house. With the Sportsheets Door Jam Sex Sling, you and your partner can get into sexual positions the average person can't get into otherwise. By proving the right hold and leverage, the flexible sling enables better stimulation to reach erotic new heights. And what the hell, keep the Christmas music on, we all know that Johnny Mathis was a sex machine. (Use code EMILY at checkout for 20% off)
---
Rocking around the Christmas tree gets even better with a little anal stimulation. The hottest new toy in backdoor play is the silicone Rimming Plug from B-Vibe. This one-of-a-kind plug features rotating beads that create a rimming effect with offers six levels of intensity to drive you and your partner wild. It's seamless, body-safe, and downright sexy for beginners and beyond. Add your favorite System JO water based lube and you have a stocking stuffer set you'll always remember. For more tips on anal play click here.
---
JO Oral Delight Peppermint Pleasure Arousal Gel
One of the best things about this time of year, is the array of treats to delight in. Cinnamon, caramel and peppermint flavor the holiday season. And now, those same sweet tastes can flavor your kinky bedroom fun. The JO Oral Delight in peppermint is more than a delicious treat because it also offers an erotic cooling sensation to enhance your oral stimulation. A dollop on the nipples, a dash on his shaft, and as you lick, kiss, suck, or blow, the gel responds to the warmth of your mouth and provides a cooling sensation, enhanced by oral play. The gel also comes in Strawberry Sensation, Cherry Bust, and Vanilla Thrill. Try them all for low calorie goodness you'll crave well after New Year's.
---
Midnight Collection from Sportsheets
The best kinky play involves igniting the senses and enticing your most sensuous desires. Enjoy being a little devilish and decadent with the Midnight collection by Sportsheets. Adding an accessory or two can enhance any night of lovemaking, but pairing multiple items from a true S&M collection, like this one, will lead you and your partner to kinky new heights this holiday season. Wrap each item and then watch as your partner opens them one by one. It is so sexy to see your partner imagining what's to come. This is a great time to share your fantasies, express your desire, and ask your partner to do the same.
When you are ready to use your Midnight Collection, begin with the Midnight Pearl Chain Nipple Clamps. They are adjustable so you can find the pleasurable sweet spot and right amount of pinch to perk up the nipples. Starting here will get you both very turned on. Not only do the pearl clamps feel amazing, they are also extremely arousing visually. Linger on this step by offering extra licking and kissing. Next, you'll want to add The Midnight Lace blindfold to heighten bodily pleasure as the sense of sight is blocked. Imagine the titillation of soft Marabou feathers as your partner gently strokes you with the Midnight Feather Tickler while wearing your lovely lace mask.
And if you've been extra naughty, grab the Midnight Lace Paddle for a little spank action. Just remind your lover to give your bum a good rub (to circulate your blood a bit) and then smack, a spanking that feels as good as it sounds.
---
You've made your list, you've checked it twice – but did you remember the two most important things to "do" this Holiday season? You and your lover! Give the BDSM Sex Checks for play and pleasure you can cash in on all year long. Each one comes complete with sexual suggestions to keep you in the mood and trying new things to please your partner, so you can fill them out to your specific inclinations. Imagine the possibilities! Of the 100 checks included, 50 are for him, and 50 for her. The BDSM Sex Checks also make wonderful stocking stuffers so you can slip them for a fun and mischievous surprise.
---
Bourbon Afterglow Massage Candle by Jimmyjane
Often we think of massage candles as the perfect foreplay item, and they certainly can be. However, on a winter's night of kinky sex, I suggest using them after you've had your fill of orgasmic pleasure. To be perfectly honest, kinky sex can get a bit messy and definitely rowdy. You may end your sex session flushed, dripping in sweat and still reeling from your body's natural endorphin and dopamine high.
You and your partner will likely need to shower or take a bath. Emerging from the water, keep the romance level high as you allow your body and mind to relax by giving and/or receiving a full body massage. This is especially rewarding if you've played with dominance and submission over the course of the evening. Softly caressing and soothing the parts that were spanked, flicked or bitten is a lovely way to end your night of kink.
The Afterglow candle provides the right ambiance. The wax burns at body temperature and turns to a moisturizing massage oil, making it perfect for post-coitus caretaking. The sweet hints of vanilla and bourbon envelop you as you drift to sleep in the arms of your playmate. Imagine yourself all snug in your bed, while visions of kinky passion dance in your head.
---
So there you have it boys and girls… lots of kinky toys and goodies for your "jollies" this Holiday Season. In kink and BDSM, we tease about punishing and being very bad, but when you give the gift of kinky sex, you are really expressing immense trust and generosity. Whether you use all of the items on the naughty list, a select few, or simply apply some of what you learned from it, you'll be equipped to give the best gift of all. Passion! In the form of kinky holiday fun.
After all, tis the season to be naughty!
---
Stephanie Salyers is a writer and producer living in Los Angeles. Though she now works mostly in pop-culture and entertainment, she began her career as a sex educator, writing and conducting seminars for thousands of people across the U.S. For Stephanie, writing with the Sex with Emily team gives her the best of both worlds! For more from Stephanie AKA Bad Girl Santa, follow her on Instagram & Twitter…