Video Podcast – The Penis II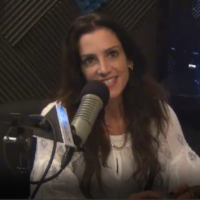 The penis party continues at TRadioV with a lesson in male anatomy, and just the tip for pleasuring the penis.
Emily and Menace celebrate the beginning of October by debating the best Halloween costumes from years past (a Rabbi vs. Queen Midas). In the spirit of the season, Emily gives Menace some Cosmic Bear Glow in the Dark Lubricant  not only so his penis glows but also so he can use it as war paint. 
Emily also answers listeners emails about performing better oral sex on women, 50 Shades of Grey, and how to relax while losing your virginity.