The People's Guide to Fellatio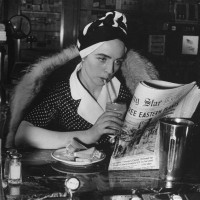 Finally, it's time for the fellatio finalists and winners! These are the finest fellatio tips I've ever received from the people. I asked everyone to send in their best oral sex tips for the chance to win some goodies from Masque: Sexual Flavors (oral sex with a flavor). Here's 20 of the best oral sex tips from our listeners…
The winners:
1. Make sure there is a lot of lubrication. Don't just bob it in and out of your mouth. Mind the teeth and use a little tongue swirling around the tip, with a little bit of licking down the shaft. Suck on it like its the best damn lollipop you have ever had, use hand movements up and down the shaft, and don't forget to lick, kiss, and even suck a little bit on the balls. Fondle them gently in your hand….
2. Use hands with a good grip, twist as you approach the head and don't forget the wetter the better… Nice and sloppy.
3. If you're not having a good time, the recipient won't enjoy themselves either.
The finalists:
4. As a gay man I can say a little tongue swirl around the head gets them going.
5. You can't neglect the balls. Always use a little hand motion and keep it wet from the base up and show them love to the tip.
6. I've always found when giving a BJ on a guy stick with what they like. No guy wants you to surprise him. At least the guys I've known. Be consistent with the stuff they like and they'll enjoy it more.
7. Swallow
8. A lot of tongue work and a little nibbling always works
9. Eye contact when you're sucking… and make sure those eyes are filled with emotions, lust, hunger or play it coy if you're roleplaying
10. Use your hands simultaneously, and don't actually "blow."
11. Give it all attention. From tip to balls and don't just go for the big O, but savor the time down there and make it last for him.
12. While performing a blow job you can add chocolate body paint, squirty cream or ice cream then spend time licking and sucking it off, or try a flavoured lubricant
13. Don't be afraid to explore… stroke, lick and suck on his balls, thighs, tummy, ass. Also, use your fingers at the same time you're using your mouth– DOUBLE SENSATION! Make it messy sometimes… he'll appreciate that you're more concerned with his pleasure than the drool.
14. Use your hand, find a rhythm — the wetter the better.
15. A little imagination and a long cleanup
16. Lick front to back and suck the area in between aggressively as you stroke the shaft and insert a finger anally. Drives him INSANE.
17. Don't be boring..get dirty and enjoy it…lick and suck the balls….and make eye contact!!
18. Oooh yes definitely don't neglect the balls and the area between the scrotum and anus.
19. Suck like you're sucking on a straw….creates just enough suction
20. Always play with the tip, with your mouth and tongue that's where they're most sensitive. While one hand jerks him, the other hand is playing with his balls. Suck, kiss and lick every part of him. I never had a complaint!
The take-away message:
Pay attention to the tip, use your hands, make eye contact, and don't be afraid to play with his balls (if he's into that kind of thing). Every guy is different- some like variance and others like consistently. But everyone wants the recipient to enjoy it.