The Recession's Lesson: Invest in Sex Toys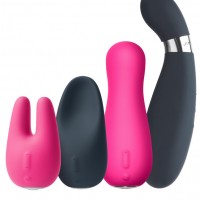 While the Great Recession may primarily be remembered as the worst time in human record to graduate from college, buy a home, be remotely middle class, or impulsively wager your manhood on the continued strength of the Greek economy, those in the know will someday fondly recall this interminable era as the unprecedented Age of The Sex Toy.
While our grandparents' generation scraped through the Depression by embracing extreme thrift, expansive public works projects, or in many cases, Fascism, it's clear that we've learned from the lessons of the past, and now escape our crushing economic realities through the simple pleasures of swapping bodily fluids and playing with vibrating things while doing so.
Not only is sex toy ownership growing faster than national food stamp mailing lists, with the erotic product market now tickling up $8.9 billion annually, and poised to climb to nearly $70 billion in the next eight years, but today's toys are imaginative, stylish, and sleek  (Jimmyjane vibrators) – the way the future ought to be. Our ancestors slogged bulky phalluses across glaciers and plague-devastated hellscapes, and our modern counterparts suspiciously stockpiled electric toothbrushes in their armoirs, but today's carnal connoisseurs enjoy ergonomic designs, unparalleled power, and in some cases, 16 GB of music and video storage space  – because you can't spell functionality without 'fun'…
Arguably the smartest thing about this new, smarter sex toy culture is its fusion of the great driving forces of modern American progress – ingenuity and laziness. If the ease of online shopping isn't fast enough for you, bike-based sex toy delivery services have Brooklyn by the short and curlies, and Huntsville's new Sex Toy Drive-Thru enabling you follow up your run to Arby's with a larger pair of leather chaps, to cover the girth incurred by all prior Arby's runs.
As we revel in these boom times for bum tickling, this bull market of ball torture, a Swinging Sixties with less body hair and interpersonal communication, flush with Fleshlights and awash in We-Vibes, it is imperative to remember those who came before us, and often, concealing their desires with cryptic product names like "personal massager" or "microwaved banana peel". So the next time you spend a night in with your favorite toy, because movie tickets require a fifth mortgage and you're eating tortillas and peanut butter for the third night this week, take a moment to salute the bold pioneers of pleasure who have brought us to this mountaintop, then vibe, vibe against the dying of the light…
Then take note to pay your electric bill.