The San Francisco Social Benefits Larkin Street Youth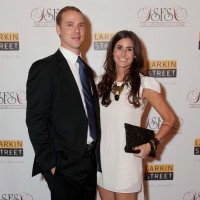 The San Francisco Social held this past Saturday gathered more than 500 young adults at the Fairmont Hotel to raise over $75,000 for Larkin Street Youth Services,  an organization helping San Francisco's youth move beyond street life for over 28 years.  Saturday's crowd was young, hip, tech-savvy, and passionate about giving.
Twenty-six year old Anderson Puglash founded the San Francisco Social six years ago as a way to give back  to the community after losing his father to cancer.   The annual fundraiser bring together young professionals  and philanthropists to support rotating Bay Area causes so that men and women can choose charities  most inspiring to them.
Larkin Street Youth Services, this year's choice, helps homeless and runaway youth move beyond street life by providing services that include housing, a community art program, and an HIV speciality and prevention clinic.  When the HIV epidemic hit San Francisco in the late 1980's, Larkin Street was one of the first to address HIV.  Last year Larkin Street provided HIV testing for 573 youth, HIV risk intakes on another 239, and provided treatment to another 888 who were HIV positive.
Such results are helped made possible by the San Francisco Social and its sponsors— companies including 7×7, RMG Networks, Rent The Runway, and Sincerely, makers of Postagram, a method to ship online photography to family and friends.   In fact, Postagram staff photographed party attendees in front of an step and repeat to make each guest feel like a celebrity.
Benefit Cosmetics donated  products to the party goody bag for future doll ups (next year let's hope lipstick vibrators are included from The Screaming O).
I left beautified, accessorized and with new friends to the after-party at Aventine, a San Francisco lounge.   Location was  disclosed only last minute via mobile app (and not Emily's Sex Drive).   Lounge goers needed wristbands from the San Francisco Social main event in order to guarantee a handpicked crowd at the late night venue.
The evening was fun, well-executed, and the perfect kick-off to the holiday giving season.
For more photos from the San Francisco Social click here.