The X-Run 5k: Are You Brave Enough For the Blue Balls Dash?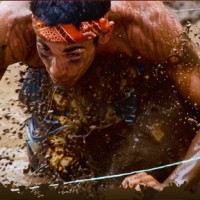 Have you been yearning for a way to appease your healthy (possibly insatiable) sexual appetite, love/hate for exercise, and general obsession with getting down and dirty? Look no further, we found the event that's perfect for you and anyone else that may have a…questionable motive in their exercise endeavors. It's a 5k mud-run called the X-Run, and trust us, there's X around every corner. With 14 obstacles with names like the Blue Balls Dash, the G-String Crawl, Dominatrix Dungeon, and the Honey Slide; this run is sure to please your dirty side (and we're not just talking about the mud). After the run there will be a post-race party with adult stars, live music, food vendors, beer stands, a mud wrestling pit, a Mr. and Ms. X Run Competition and much, much more!
"This event has been organized with fitness and fun in mind, but most importantly, we are encouraging a positive attitude towards sex and a healthy lifestyle," says organizer and founder Kelly Perez, "As well as being physically challenging, competitors will learn sexy new ways to keep fit with our pole dancing and burlesque demonstrations. They may even take away some great ideas for the bedroom from some of our adult-themed exhibitors."
 While this run has a sexy spin, it also has a very sex-positive message. The obvious message is that sex is fun. In addition, the run will also be offering sexy food tips in order to keep your body healthy and in perfect, sexy condition. Sex is also entertaining: the run will offer naughty entertainment to titillate your dirtiest fantasies. Finally, sex is pleasurable. The X-Run promotes the idea that both sex and exercise increases endorphins, which helps us feel super good. Grab your friends and your S.O.'s and go on vacation for this fun run! Just make sure everyone is over 21.
While the run is sex positive, there will be no sex or nudity allowed at the run. It is simply a sex positive awareness event. The place to be on May 31st is Miami, Florida for the X-Run! I can't think of a better way to finish off Masturbation Month! Check out their website to find out more information or to register now! Maybe we'll see you there.