The Year in Sex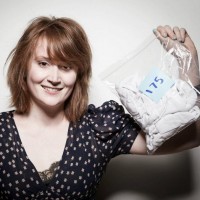 2012 ushered in a wave of new sex trends from the popularization of BDSM to finding love with the help of a smelly, old T-shirt.
Let's take a look back on the year that brought us Mommy Porn…
Sex & Dating Trends in 2012
1. Gay Marriage
Obama is the first President to openly support gay marriage. Same-sex marriage was legalized in Maryland, Maine, and Washington during the 2012 election.
2. 50 Shades of Grey
Although BDSM has become more mainstream in 2012, hopefully we won't have to hear about 50 Shades of Grey as much in 2013. It's time to snuggle up with some new erotica.
3. Alternatives to traditional online dating
Websites like Meetup.com and Grubwithus.com  encourage singles with common interests to get out and mingle.
4. Pheromone Parties
Find love with the help of your sweat-stained T-shirt. Wear a white T-shirt for three days in a row, stick in a ziploc bag, and start smelling other people's dirty shirts while they smell yours. Find your soulmate with the science of smell and the stink of desperation.
5. Dating Apps
If you somehow didn't have any luck at the pheromone party, find true love with your smartphone. Mobile dating boot camps are cropping up in LA. Apps like Grindr not only tell you who you should love, but the exact coordinates of your future gay lover. Check out my app Sex Drive for more adventurous sex with your partner.
6. Tweet away your dating woes
If texting on dates wasn't bad enough already, people are tweeting, blogging, and even video blogging  while out with potential mates. If your date is horrifically bad, at least it will make for entertaining content.
If 2012 was the year of Mommy Porn and BDSM what is in store for 2013?
It's going to be an interesting year.