The MDNA of Sexuality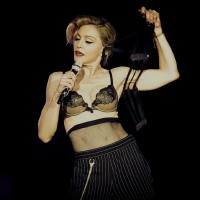 As the disembodied sounds of church bells and wind chimes echo over a gothic cathedral setting, a sumo-sized thurible smokes and swings heavily over the excited crowd. Robed monks pace and strut as they begin to call out the female Demon waiting patiently behind a giant stained-glass cross. The archways slowly begin to open and allow a blinding stream of light to bleed onto the audience, when the holy words "Oh my God" erupt over the speakers.

Kneeling within a levitating confessional booth, the dark silhouette of a queen takes a machine gun and shatters the church glass with a powerful thrust. In a skin-tight black bodysuit, complete with black-veiled crown, Madonna descends onto the stage and ignites the evening with her iconic, mind-blowing footwork. The Queen of Pop has arrived and there is no denying her incomparable power.
Last weekend I was beyond fortunate enough to not only attend Madonna's internationally sold-out MDNA Tour, but also win pit tickets for the second Los Angeles show. For almost two hours, the 54 year-old singer masterfully assassinates masked assailants in a simulated virtual bloodbath, flawlessly twirls a bedazzled baton, strips down to her designer undergarments, and out-dances any currently-favorited pop tart half her age. There is absolutely no denying that Madonna is the only Queen of Pop.
It's not exactly headline news that Madonna is an incredibly sexual performer. I'm sure we've all seen her nipples or genitals at one time or another, thanks in part to her timeless 1992 coffee table classic Sex, but it's astonishing to see how many people are still genuinely excited to see a woman well into her 50's take it all off. In the incredibly sexist and ageist society we live in today, Madonna refuses to "act her age" or "cover up" and instead decides to put on the show of a lifetime — her show.
I can't tell if it was from the buzzing endorphins streaming through the arena or the fact that I had the opportunity to dance with Madonna's freaking kids that I came away from the experience feeling so elated, but never before in my life have I felt so spiritually inspired from a musical event. It honestly baffles me how so many media critics find pleasure in stripping Madonna of all credibility in an era when she has earned every right to sit her toned butt comfortably on the throne of pop music. This is a woman who has truly lived the American Dream with nothing but her ambition, drive, and raw talent to pave the way.
As humans age and certain expectations are placed on how they should behave, it becomes difficult for many to escape the unfair criticism for refusing to conform. There's a stigma that women should not be sexually adventurous when they reach a certain age, but should they curl up beneath a boulder and rot away? Many women in fact reach their sexual peaks well into their 40s, so who's to say that a woman should abruptly stop feeling sexy a few years later? Madonna certainly does not.
There is no "rule book" that dictates how certain people should behave, but if Madonna's primary mantra is anything to go by, it's to never be sorry for being who you are. Sex is a part of our lives that we all love and often crave, and there is never a moment in life for that human right to be taken away — unless that's what gets you off. Just do you, and others will want to do you too. "Express yourself, don't repress yourself!"