Thrifty Dates for Threatening Weather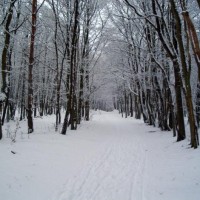 Now that Hurricane Sandy and daylight savings have passed, we enter the holiday season.  Couples need to save money for gift shopping and also be able to entertain one another in darker days and colder weather.  We want to provide some thrifty ways to spend time with your lover and  put some "oomph!" back into the relationship.
1. Dining Out?  Make it a Monday or Wednesday Night-  Not as many people go out on these evenings, so it is easier to find a table.  These nights restaurants are more likely to offer promotions such as half off select bottles of wine.  Find a cute bistro with this special and go for a romantic dinner.  Grab the wine list so your date does not think that you are cheap.  Red wine helps to warm up.
2.  Utilize Chocolate– Hey- even if it's leftover Halloween candy!  Chocolate is an aphrodisiac, especially dark.  The ancient Mayans and Aztecs revered dark chocolate for its powers of erotic stimulation.  Alkaloids in dark chocolate increase brain serotonin levels, which heighten levels of pleasure. After eating chocolate the body produces dopamine, the brain chemical that surges during orgasm.  So, make chocolate fondue together- dip in  fruit, candy, candy canes, or other items that you want to chocolate-coat and feed each other.  Or, make homemade hot chocolate using real cocoa.
3.  Darts & Dive- Grab a few beers at the local dive bar, especially a heavier brew if the weather is cold.  Find out which bars have happy hour specials for extra value.  A TV is great especially for Sunday or Monday football  watching.   A place with a  pool table or a dartboards set up brings added entertainment.  The loser can owe the winner a song on the jukebox.
4.  Spa Night-  Settle in for a night of pampering, no pricey spa required. Use empty wallets as an excuse to stay in — and up — all night. Run a bubble bath and then treat each other to full-body massages.  Set the mood with some candles and massage oil.  Use a massage oil candle, such as from Jimmy Jane, for a double whammy.
5.  Watch a Video Together-  While you're waiting for your Netflix delivery, stop at your local library and rent a few movies. Toss a coin to see whose pick you'll watch first, and promise not to interrupt with bored sighs, eye-rolling, or snoring sound effects during each other's choices.  The movies can be sexy, or even  sex educational, such as  sex education DVD's by the Sinclair Institute.
6.  Snow Balls! –   As winter sets in, use the snow-  make snow angels, snowmen, igloos or phallic symbols.  Go sledding or get into a snowball fight— use your imagination.  Celebrate with a cup of dark chocolate hot cocoa (with whipped cream) for an aphrodisiac benefit at the end.  Plus, maybe some sex in front of a fireplace to warm up.
7.  Up the Wall–   Do you two drive each other up the wall sometimes?   It happens in relationships.   Put on your sneakers and head to an indoor rock-climbing gym. Challenge each other to a race to the top and relieve sore muscles with a hot shower together afterward.   The adrenaline rush from exercise is  good for some after workout nooky.
8.  Bookstore Browsing- After all, librarians are classically sexy and intelligence is a turn on.  Head to the bookstore and walk through the aisles together, showing each other your favorite books.  Flip through Emily's Hot Sex or a Kama Sutra book for ideas for later.  Don't worry, Hot Sex has lots of illustrations.
9.  Online Comparison Shop Naked–  Until nudist shopping malls arrive, the only way to shop nude legally is at home online.  A favorite for the holiday— the Screaming O Studio Collection, vibrators that look like make-up.  Surprise your niece.