Tips for Hot(ter) Summer Sex!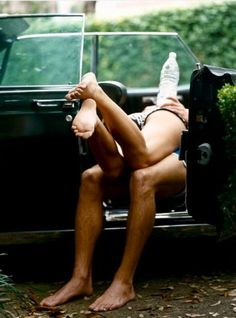 Summer, glorious summer, is finally upon us, and there's something sexy in the air.
In addition to the great weather and time off, this season brings with it feelings of adventure and opportunity. It's the perfect time for barbecues, beach trips and bikinis. Plus, it's a proven fact that everything gets sexier in the summer! There are more people out and about, meaning more opportunities to flirt with someone new. Of if you're already settled down, summer presents endless opportunities to turn up the heat on your sex life!
No matter where you're getting busy, or who with, no summer sex-capades would be complete without the necessary tools. Here are five sex tips & tricks that are really worth exploring in the sizzling hot days ahead…
Stay Fresh All Summer
One of the great things about summer is that you never know where those long days and warm nights are going to take you, but chances are, they might not always take you home to shower first. A huge part of summer sex appeal comes from self-confidence, and it's hard to feel confident in your inherent sexiness when you're well-aware of the swamp situation you've got going on down below. Gee, if only there was a product you could take with you anywhere that could keep you fresh and sweat-free on even the hottest days…. Oh wait!
Down Under Comfort's cream-to-powder formula was specifically created to absorb sweat in the places you need it most. It prevents unsightly sweat stains and smells incredible, plus you can use it anywhere, anytime! And it's not just for dudes, either — there are tons of uses for women, too, whether it's under the boobs, between the thighs or even to keep sweaty-sandal-feet in check. You never know when you'll meet your next great summer fling, but Emily & Tony's Down Under Comfort is ideal for a quick recovery from an undesirably wet situation, leaving you fresh, dry and ready for anything!
Make It Last
People report having the most sex over June, July and August and who could blame them? One of the best parts about this time of year (besides the weather) are those long summer days, followed by hot summer nights. When the sun doesn't go down until 8pm, those lazy afternoons are wide open for all kinds of enjoyable activities… And I think you know the type I'm talking about.
With more time on your hands, and way less stress, summer offers the perfect chance to have way more sex! Take advantage of this seasonal gift by getting all of your errands done early, then treat yourself and your partner to a little afternoon delight. Experiment with new positions and new locations, and really take your time to explore together. If you really want to make it last, try Promescent!! The amazing FDA-approved delay spray helps men last up to two times longer, so whether you're a 10 minute man or a 30 minute man, who cares? You've got nothing but time!
Get Wet
Once the temperature starts to climb, hot bodies everywhere naturally make their way to cooler, wetter places. While oceans, lakes and swimming pools may seem like the perfect place to sneak in a quickie, I recommend sticking to foreplay. Between the chlorine, the salt and all the bacteria, fully submerged sex puts you at risk for all kinds of infections, not to mention vaginal tearing.
For a risk-free, but equally sexy, water experience, look no further than your own bathroom! Shower sex is the perfect hot weather sex attraction, for a number of reasons: The limited space requires you to get creative with your sex positions. The cleanup is minimal, so you can work up a sweat and get squeaky clean, all in one go. Plus, contrary to popular belief, cool water actually heats up your sex drive! It stimulates circulation, meaning blood will flow more easily to the places you want to feel it most.
No matter where you and your partner end up splashing around, keep in mind that the presence of water does not mean you can skip the lubrication. In fact, wet skin actually produces more friction, and not the good kind! Stick with a silicone lubricant like Pjur that won't wash away when it comes in contact with water. Another great lubricant for water-play is Shower Jerk — it's water-activated and especially formulated to actually get better when it gets wetter, meaning it'll go for as long as you can!
Put the Play in Foreplay
You know that I am ALL about foreplay. Whether it's 30℉ or 100°, pre-sex activities are ALWAYS a requirement. But no matter how giving you are, no one wants to work that hard in the sweltering summer heat. After all, thirty minutes spent down below sounds like a lot of hot, sweaty work, and that's before the real cardio even starts! That's why every couple needs to have sex toy or two that can pick up the slack and provide just as much pleasure with minimal effort.
The Tango by We-Vibe is the perfect clitoral vibe for your summer trysts. It is made of cool, body-safe plastic that won't heat up her lady parts, is 100% waterproof, and for such a tiny sex toy, the Tango really packs a punch. Since it lasts for up to 90 minutes on a full charge, bring it out for a little warm up activity and keep it going all the way through the main event!
Take It On-the-Go
Whether you're exploring uncharted territory or finding adventure within the four walls of your bedroom, you're going to need toys that are just as adaptable as you are. Luckily, all of your favorite sex toys recently became a lot more travel-friendly!
Just a few months ago, if you were headed on a spur-of-the-moment road trip with your sex partner of choice, you would have to leave your trusty Magic Wand vibrator at home on your nightstand, tethered to the wall like it has been for decades…. Until now! The same Magic Wand that you know and love, and have trusted for 30 years to provide powerful, penetrating vibrations, is now totally liberated from your bedroom wall. Say hello to the Magic Wand Rechargeable: No cord, no limits to where and how you enjoy it!
And speaking of liberating, the best-selling sex toy for men is also coming out with a more travel-friendly model. The Fleshlight Go is everything you love about the Original Fleshlight, but compacted into the size of an actual flashlight. Don't worry, it can still comfortably pleasure 90% of men's penises, but now it can also comfortably slip into your pocket, your backpack, or even your in-flight carry on. Just like the new Magic Wand, your male masturbation sleeve can now keep up with your sexy summer self. Get your Fleshlight Go July 1st on the Fleshlight site!
Special discounts for listeners of Sex With Emily:
Use coupon code Emily for 15% off at Good Vibrations and coupon code EMILY for 20% off my Aromatherapy Massage Candle and DownUnder Comfort at Emily& Tony.
Go to Promescent to make love longer.
Increase your stamina with the #1 selling sex toy for men, Fleshlight. Use code: Emily to get a FREE bottle of Fleshlube with your purchase.
Stop by Hustler Stores in Hollywood or the closest store near you for all your kinky needs- Don't forget to mention "Sex With Emily" at the counter for 20% off your purchase.