Tonight, Bravo TV, 10pm, Miss Advised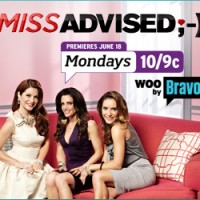 So, what are you doing tonight? I recommend you watch this new television show Miss Advised  at 10 pm on Bravo TV. Don't have cable? (I'm speaking to my San Francisco friends here). Go to your neighbor's house. It's time you introduced yourself anyway. Point is, find a way that you you can watch every Monday this summer. Because I think you'll be entertained and laugh (either with me or at me, I'm cool either way).
Miss Advised follows three single relationship experts in different cities and asks the question: "Do we practice what we preach?" They filmed me in San Francisco, along with matchmaker Amy Laurent in New York  and dating columnist Julia Allison in Los Angeles.
I'm excited for the show to air as it's been quite a process that has spanned almost two years. My costars Amy and Julia all went through the same process but had very different outcomes. We don't interact during shooting so it really tells three separate stories about a lot of the issues that people can relate to when it comes to dating: self-esteem, confidence, trusting our gut, coming on too strong or not strong enough.
I talk a lot about monogamy on the first episode and how I think this shouldn't be the only model for people to aspire to. There are many ways to have a relationship, just as there are many different types of people in the world. The show brings up a lot of the common dating issues and I really think people will relate. So tune in!
The Sex With Emily website has a new look.  I welcome your feedback of course.  You can listen to the most recent episodes, watch some videos, and check out my product page with some of my favorite things.
We'll have new Sex With Emily episodes every week and they're all free and easily accessible for download here.
Thanks for listening and watching tonight!
xxx,
Emily