The Best Sex Positions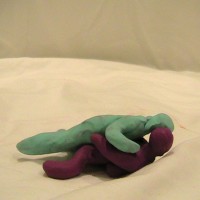 Sex With Emily is proud to present it's first soft-core claymation. Whether you are gay, straight, or made out of clay, we think you'll enjoy our slightly perverted art project.
A special thanks to these coital claymates for modeling the best sex positions…
Missionary Position
---
Good ol' fashion Missionary doesn't have to be bland and boring. Make your Sunday afternoon heavenly by draping your legs over his shoulders while he kneels from above. If you weren't sure if the G-spot existed, you might just become a believer.
If you're looking to make sweet love with lots of clitoral stimulation, try CAT position. Instead of the old in-out, he scoots up, slows it down, and makes an up-and-down motion during Missionary. This position is the best for simultaneous orgasms, if any of our claymates should be so lucky.
Doggie Style
---
Doggie Style is perhaps the most primal of all the sex positions. Kneel on all fours or lay down with your legs spread-eagle. He kneels or stands behind you as he penetrates. Beware, doggie style can get rough. Start off slow and give them a kiss over your shoulder as they lovingly pummel you from behind.
On Top
---
Take control of the movement by sliding on top and straddling your mate. Gyrate your hips, bounce around, or arch your back for different sensations. For the whole shebang, have your partner thrust up as you do most of the work.
(FYI that's not a frown on Mr. Green, just a little lipstick courteous of the lady in purple).
Stand up and deliver
---
While the position pictured might not seem humanly possible, you can succeed at sex standing up. Lean against a surface such as a tree with a firm, sturdy trunk. Face away from your mate so he can enter you from behind. Standing up is a perfect position for shower sex or an outdoor playdate– or claydate as we like to call it.