Top 5 Vibrators for Singles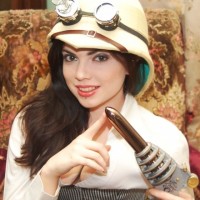 You know those friends who won't stop talking about their boyfriends? They go on and on about how he has the perfect penis. Their boyfriend is supposedly the most attentive, loving creature, and the best at oral sex. "Someday you'll understand." The next time they want to tell you about their romantic Valentine's Day plans and "perfect" sex life, tell them about your night. Eight orgasms in a half-hour. Maybe someday they'll understand. Who needs a boyfriend when you can have seven inches of silicone, eight pulsation patterns, and six hours of battery life?
Here's 5 of the best boyfriends vibrators for all you amazing single ladies.
Top Vibrators for Singles:
1.The Original Magic Wand
What makes Original Magic Wand so special?
It doesn't mess around or try to be something it's not. It's there simply to get you off, and to pamper you with back massagers after you're worn out from orgasming so much. Does your boyfriend do that? Didn't think so.
The Magic Wand helps you discover how much pleasure your body is capable of feeling, which is an incredibly powerful thing.
2.Mystic Wand Vibrator
Why makes Mystic special?
It's the Original Magic Wand's beautiful baby girl. It's for all you Hitachi lovers–or soon to be Hitachi lovers– who want the Magic Wand experience without the bulk. You don't have to lug it around or plug it in, and it doesn't sound like a turbojet is landing on your clitoris.  It's for all the ladies out there longing for a strong vibrator with some compassion for their vagina
(Don't worry Original Magic Wand, I still love your raw, unbridled aggression).
3. FiFi Waterproof Rechargeable Vibrator
What makes Fifi Special?
We've all seen the episode of Sex in the City where Charlotte literally falls head over heels for her Rabbit Pearl. But since the 1990s rabbits have done a lot of growing up.
The Fifi is a particular breed of rabbit that gives full internal stimulation while thumping it's big, floppy ears on your clitoris. Plus, it's rechargeable so you can use it over and over again without having to leave your bedroom for Energizer Bunny batteries. *Sigh* If only you could plug your man in to empower him with the ferocity of the Fifi.
4. Stronic Eins Thruster
What makes Stronic Special?
It thrusts.
Women despair that using a vibrator just isn't the same as doing it with a penis. They're right, it's not the same.  Sex engineers developed the Stronic so it can hit exactly the right spot while making a perfect forward-back motion. It's mathematically impossible that a man and his penis can be that precise and innovative while animalistically pumping away. The best part– you hold the controls to it's thrusting member.
5. We-Vibe Thrill
What makes Thrill is special?
It looks like a cobra and feels like a penis with superpowers. Its silicone tail gives you internal movement, hitting your G-spot, while you rock in and out, in–and–out. Everything else is dedicated to giving your clitoris sweet, powerful vibrations.
Basically, you're going to have a good time whether you're coupling off with Hitachi, Mystic, Fifi,Stronic, or Thrill.  If you accidentally find a partner, invite them to play with your vibrating lovers.