Unknown Pleasures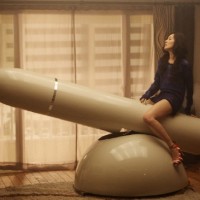 I never used to prioritize my own pleasure during sex. Of course there were those few gods of oral sex who knew exactly how to flick their tongue to make me come. But mostly I was having mediocre sex without any clitoral stimulation.  I never expected to orgasm because my main concern was getting him off.
But then I got a vibrator. I went to Good Vibrations, a sex positive store that celebrates female pleasure.
I asked a salesperson to help me find a gentle, unintimidating vibrator. After all, it was going to be my first. I also wanted something with lots of different speeds and settings. I finally decided on the hain. Little did I know my clitoris only requires one setting—very high. My little Serendipity was a great first vibrator and certainly got the job done, but I was ready to explore this new vibrating world of unknown pleasures.
I went back to Good Vibrations and got the Hitachi Magic Wand, a powerful back massager that serves a much greater purpose for your clitoris. I had ignored my clitoris far too long and couldn't get enough of it. With the Hitachi I would orgasm over and over again. I would tell myself, 'this is my last orgasm, then I have to quit and do something productive.' But what's more productive than getting off? I began creating whole playlists dedicated to my time spent with my beloved Hitachi. These "Boner Jams" consisted of anything from the spiritual sound of Sigur Ros to the gritty sexiness of Nirvana. I was getting it on and I didn't even need a Kurt Cobain to do it—although that would be nice. I did have sex with a man using my Magic Wand and was finally able to orgasm during sex. His balls also appreciated the vibrations.
The Serendipity and the Magic Wand are worth far more than the money I spent on them. Perhaps money can't buy you happiness but it can buy unlimited pleasure. Vibrators have the ability to set women free far beyond the peak of pleasure.