Wear Your 'Hard-On' Your Sleeve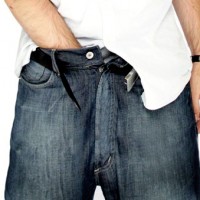 It's no secret that men are naturally horny creatures. I can vouch for this when I say I masturbate almost once a day — I'm not ashamed to admit this, I'm actually quite proud of my manhood. Whether by hand or with the additional help from an outside device, masturbating is one of the most rewarding male pastimes. For one reason or another a lot of men seem to be intimated by the idea of introducing their most-prized appendage to a sex toy. If you can get past the fear of the unknown you're in for a wild ride!
I begin my sexploration of boy 'toys' with the Tenga Egg: Love Egg, a curiously egg-shaped device seemingly made from love. The interior is adorned with heart-shaped silicone ridges that provide a gentle-but-intense genital sensation. The Love Egg itself is about the size of an actual egg, but the comfort-fitting silicone allows for it to slide over the entire length of my penis with ease. It's true that I'm a relative newbie when it comes to using masturbation toys (I do a great job myself, thank you very much!), but the Tenga Egg pulls me closer towards orgasm faster than ever before. The product is listed as one-time-use but if you're an absurdly hygienic guy like me, you can get a few more miles out of it. The Tenga Egg also appears in six other deliciously fun styles and can be purchased at Good Vibrations. 
Next on my hit list is the Super Head Honcho Masturbator from the Sinclair Institute. This 5" mouth-shaped sleeve is about as close to oral sex as a personal masturbator can get. With three separate suction chambers and a translucent pink exterior — that makes your penis look 3 times larger! — the Super Head Honcho means serious business. The interior nubs are textured to give a velvety-smooth sensation so you can thrust with all your might as long as you desire — or until the suction becomes too powerful. I have to say I greatly enjoyed this sleeve initially, but after about 10 minutes of use I found myself growing slightly sore from the profound suction. Still, it's a great little utensil to reward your manhood with.
It's worth noting the absolute importance of lubrication when playing with your favorite toys. Sleeves, fleshlights, and masturbators are powerless without the slippery ease of lubricants — always glide, never chaffe! There are infinite types of lube brands to select from, but may I suggest Nature Lovin' Lubricants to aide you on your personal down-time (Banana Custard and Strawberry Margarita are personal favorites).