Weekend Sex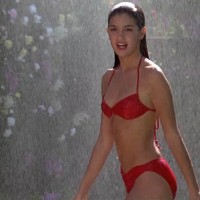 The Best Sex Scenes & Wheelbarrow Sex Position
Now that you've got your glamour and film fix from the Oscars, it's time to look forward to the next big awards—The 15th Annual Mr. Skin Anatomy Awards, brought to you by our good friends, who work to prolong your pleasure, at Promescent.  Mr. Skin was on the Sex With Emily podcast last night. Mr. Skin is the gatekeeper of the best nude and sex scenes in every film and TV show! The Anatomy Awards have been given to categories across the board including nudecomer of the year, best lesbian scene and best albino nudity. Candidates included Lindsay Lohan, Rosario Dawson, Lady Gaga, January Jones, and many more A-list celebrities in the buff. He's tells you the Best Nude Scene coming up in 2014. Tune in!

Listen to all the juicy details on my podcast with Mr.Skin. Subscribe to all our podcasts on iTunes so you never have to miss another podcast again!
Sex Tip of the Week
You may have seen a standing wheelbarrow position depicted in books or movies — the man standing, penetrating the woman while she walks on her hands. Looks interesting, but neither easy to do nor particularly satisfying. Instead of going to extremes, try this alternative wheelbarrow instead.
To get in this position, she starts in reverse cowgirl, then slowly leans forward so that her hands rest on the floor. For an especially adventurous and athletic variation, start out facing each other, with the woman on top. She then slowly arches back until her hands hit the floor behind her in a bridge-like stance. With her hands on the floor for support, she'll be able to thrust herself up and down his body.
Allie Haze: Bisexual Porn Star
"Your body makes the most hilarious noises when you're doing it right," and isn't 
Allie Haze
 right? You didn't happen to miss her podcast, did you? Well here's a second look at the vixen! Allie Haze gets into the G-spot and how you need to get over your fear of peeing during sex. Plus, if you have a killer orgasm, who cares what happens?
So now with all these tips you have no excuse but to have the sexiest weekend ever.