What to Wear On A First Date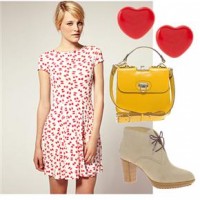 iVillage interviewed the women of  Miss Advised about what to wear on a first date. My advice?  Wear something comfortable that makes you feel sexy and confident. But how sexy is too sexy? How do you know what to wear and what should stay in your closet?  See tips below. 
1. Don't wear something new that your girlfriends told you to wear. Wear something that makes you feel comfortable instead of some newfangled item.
2. Men are attracted to sparkly shiny things– their eyes are drawn right towards your bling. Wherever you may place it.
3. However, don't go overboard with the glitz. Keep it simple and elegant.
5. No need to expose a lot of skin to feel sexy. Pick the chest or legs to accentuate (for example) but not both.
4. Find your First Date Power Outfit. For me, it's usually a dress with boots or jeans and a great top.
Now tell me this, what's your go-to first date outfit?
What to wear on a first date