What's On Your Sex & Relationship Bucket List?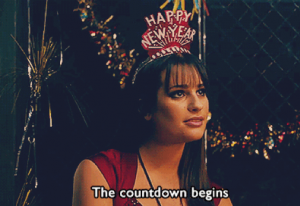 Brace yourself — New Year's resolutions are coming.
For me, the act of crafting resolutions for the new year has always felt a bit cliche (as does writing about them, for that matter). Of course I want to hit the gym more and hit Krispy Kreme less, travel more and work a bit less, get a hedgehog and stop getting parking tickets…. The list goes on and on. Unfortunately the act of making resolutions is often just that. An act. Something we think we'd like to do, but will will probably forget once our favorite shows come back from their winter hiatus.
Even the word "resolution" seems to lack conviction..
"Resolution: A firm decision to do or not to do something"
Nothing sexier than a "firm decision", am I right?
Maybe that's the issue with resolutions — They lack a certain sex appeal. Even the ones that may indirectly improve our sex life (like exercising or getting more sleep) fail to excite and inspire us. Maybe if our resolutions were a bit more fun, or involved an orgasm or two, we would be more likely to follow through with them, or at the very least, give em' the old college try.
So with 2016 fast-approaching, and the season of "new year, new me" in full swing, the Sex With Emily team decided to switch out those cliche New Year's resolutions for goals we knew we'd actually want to work on. And most of them were — you guessed it — sex related.
The fact of the matter is, sex and relationships ARE important. And no matter how great your sex life was in 2015, there's always room for a little improvement. So instead of focusing on gyms, diets and trips we'll never take, we are going to spend 2016 working through our sex and relationship bucket lists, and we encourage you to do the same! The best part is, whether your goal is to make love more, explore new sex-periences, meet your sex toy match or meet the man/woman of your dreams, you can find all the tips, tricks and guidance you need right here.
To start things off and hopefully get your bucket list juices flowing, we're sharing our top sex and relationship goals for 2016.
---
Laurie's 2016 G-Spot Goals
The ability to orgasm has never eluded me. In fact, I stumbled upon my first by accident in the shower when I was 7 years old and have been perfecting my masturbatory talents ever since. I've used toys, partners, jacuzzi jets and shower heads, and have even recently discovered my capability to reach multiple orgasms (thanks We-Vibe Touch). But in 2016, I'm ready to mark a masturbatory milestone that has escaped me thus far in my self-diddling journey. I want to find my G-spot, and activate its legendary power in all its orgasmic glory.
This won't be my first go-round on the G-spot treasure hunt. I've tried for hours alone and with partners and I even believe that I've gotten close to finding it, but it's all been to no avail. I always end up throwing in the towel and resort to flickin' the ' bean. This has definitely been one of my biggest sexual frustrations and I'm finally ready to conquer this beast. I have dreams of reaching orgasm from the inside and I think 2016 is my year. Look out, Grafenberg Spot, I'm coming for you!
---
Alyssa's Duty Dating Decision
I don't like to believe that I have a "type" when it comes to dating, or in the guys that I generally go for, but looking back at my recent dating history, I guess I do seem to be interested in a set of certain male traits. BUT, as I mature and expand my dating range, I've begun to notice that these traits are actually a little less than desirable for what I'm looking for now. This is not to generalize a group of guys in any way, but more a realization that I overlooked a lot of the red flags or communication issues because the guy fit a certain ideal in my mind. To this I say, no more!
Instead of noticing his Harley or loud alpha-male persona, I'm going to judge as little as possible by the outside or the attitude. In my New Year's bucket list sit aspirations to change my dating routine by forcibly breaking the habit of duty dating: unfamiliar personality traits . So with 2016 I say ta-ta for now to the non-committal, unmotivated bad boys of my past and hope to welcome a different kind of guy: someone ambitious and passionate. I'm ready for change, 2016!
---
Intern Jamie's Pleasure Pledge
The number one thing on my sex bucket list for 2016 is to finally incorporate toys during sex, instead of just using them on my own. Being apart of the SWE team these past couple months has opened up my mind to the world of sex toys, making me want to experiment even more in the bedroom. My only issue is finding the right person to help me check it off my list. Not every person will be into it, and I'm not going to use a Fleshlight Quickshot or my brand new Mimi by Je Joue with just any guy; that's a pleasure they'll have to earn.
As far as my romantic life goes, I would like to work on how I communicate my thoughts and feelings to the people I begin to date. I have always had a problem letting people see me in a vulnerable state, and the times that I have didn't end as well as I had wanted them to. I need to stop referring to the past and take each person as something completely new and different. No more comparisons, no more excuses. Fingers crossed these will be resolutions that I actually keep this year!
---
Madison's Sex Mission.
For me, this past year has been one of immense growth, both in my personal and professional lives. Like many twenty somethings, fresh out of college and eager to find my place in the world, my goal for 2014 – 2015 was to establish myself as one of those — what are they called again? Oh yes. ADULTS. Unfortunately, during my adjustment into adult life, I quickly fell into a pattern that many other adults find themselves falling into. I was so concerned with cooking up a satisfying career that I left my sex life on the back burner… Whoops.
It's not that I haven't been having sex, per se. But considering how much I've grown as a person, as a writer and as a payer of my own health insurance, there has been very little growth or expansion in my sexual repertoire. My boyfriend and I have a good thing going — We know what one another likes and how to make it happen. But when it comes to trying new things, I often lack the energy and inspiration to venture out of our regular bedroom routine. While my boyfriend has been endlessly supportive of my job (I'm sure the constant supply of sex toys helps) I think it's time for this sex blogger to start practicing what I preach. That's why the number one item on my sex bucket list for 2016 is to make an effort to prioritize my sex life.
My goal is to improve not just the quantity of my sexual interactions with my partner, but also the quality. This means carving out more time to get busy (even if that cuts into my Netflix time), initiating sex more often (after all, my boyfriend deserves to feel sexually pursued once and awhile) and making an effort to try new things in bed. I'll be sure to let you guys know how it all goes…