Will You Be Yours?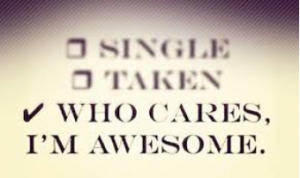 Ahh, Valentine's Day. A holiday centered around celebrating love, new and old. Restaurants are booked solid, florists are shelling out thousands of bouquets, and Hallmark is selling truckloads of cards filled with a variety of ways to say 'I love you.' It's very sweet and romantic, but for those of us who aren't part of a relationship, well… it can kind of suck.
We all have that longing for companionship, whether we'd like to admit it or not. But even if Cupid's arrow hasn't hit you, you don't have to hide in despair on Valentine's Day. Guy or girl, you can make the most out of whatever situation you're in, and show yourself that you aren't bothered by being single in February. Here are a few things that can help you stay out of the V-Day slump.
Have a Guy's Night/Girl's Night In
:
Take this time to hang out with your friends and enjoy the other types of relationships you have. Guys, hang out with your buddies and have some good old fashioned male bonding. Play poker, play video games, grab a six pack, or whatever it is that you do and let the worries of trying to pick up a pretty girl slip away for an evening. Ladies, have a Galentine's Day and celebrate all your girls! Go out for brunch or grab your pjs and veg out to your favorite movies together. Lovers come and go, but your friends are always there to have your back. When you aren't busy with the responsibilities in your life, it's your friends who you call when you want to have a good time or need advice, so celebrate the love you have for your pals.
Have a Night Out:
If you don't want to stay in, have a night out on the town with your friends instead. The day before Valentine's Day has been notoriously rumored to be a prime night for people to be out on the prowl. Having a few drinks will loosen you up and since you won't be the only ones looking for some love, you're bound to meet someone. Whether that encounter is a one night stand, turns into something more, or you go home alone, it will be better than sulking by yourself in your room.
Have a Singles Potluck:
If you have a group of single friends, invite people over for a potluck. Have each person bring two contributions: some kind of food or drink and another single friend for someone else. This is a fun way to meet new people in a safe environment. There's good food, good people, and good times. You may end up chatting with the hottie by the dip and scoring some digits, or if no sparks are flying, you'll still get introduced to some great new friends to add to your circle.  
Have a Little "Me Time:"
Light some candles, play some light music, and get comfortable. We love ourselves and we take the time to be intimate with ourselves, so why not give ourselves a little bit of romance? Instead of just laying in bed and masterbating for the sake of masterbating, really enjoy it! In fact, why not get yourself a little gift to make it the best night you've ever had on your own? For the ladies out there that haven't heard, the Womanizer is the unique, new toy on the market. This toy SUCKS. No, literally, it sucks on your clitoris. AND it feels ridiculously amazing. For the guys who want to feel more than just their hand for Valentine's Day, get yourself a Fleshlight Quickshot. It's the handy hand job helper that will take your solo session to an all time high of pleasure. You won't be sulking and feeling lonely once you discover how amazing you can make yourself feel with just a little bit of help.
Moral of the story: don't let Valentine's Day get you down about not having a significant other. Soon, it will be February 15th, and all the romance in the air will be a distant memory and everyone will be moving on to President's Day. The reality is that Valentine's Day is just like any other day in your life. The only way that you'll be down in the dumps and miserable on that day is if YOU let yourself. Everything is mind over matter, so feel positive and you'll BE positive. Instead of asking someone to 'be mine' this year, ask yourself to 'be yours.'