Wine, Women & Shoes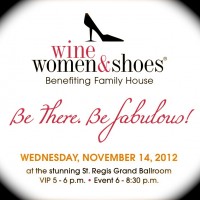 Grab your Lube-A- Tons!   I am very excited to be the Guest of Honor at Wine, Women, and Shoes today, November 14, to benefit Family House. It will be an evening of wine tasting and culinary delicacies at the St. Regis Grand Ballroom.  Discussion at the event will focus on the psychology of a woman's closet and, also, the complex bond(age?) between women and their shoes.
Most importantly, the event will benefit Family House – a home away from home for families of children with cancer and other life-threatening illnesses.   Founded in 1981, Family House provides temporary housing to families of seriously ill children receiving treatment at the University of California San Francisco Children's Hospital.  I am honored to be part of an event to support such a great cause.
So, "slip on your stilletos and grab your sole sisters" for an evening to benefit charity.