Your Sex Playlist: Music to Make Love To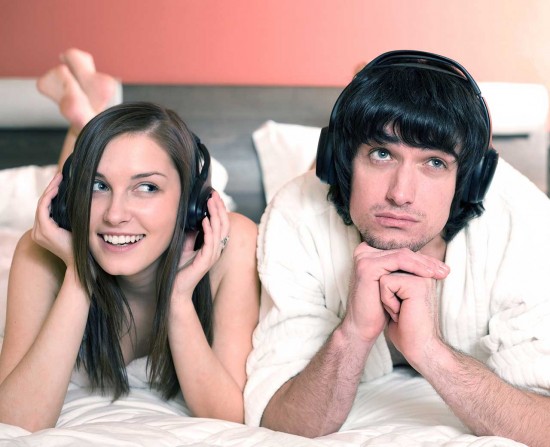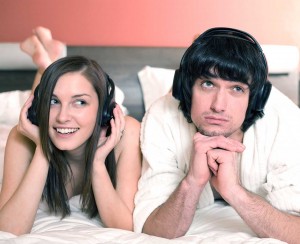 Usually, sex makes sounds. Sometimes, it's nice to cut through the moaning, grunting, squishing and slapping with some good old-fashioned music. Whether you're just trying to conceal your loud love-making from your roommates in the living room, or you're really looking to set the sexy-time mood, having a sex playlist is essential.
For a lot of people, music during sex is a matter of preference, but there is ample evidence to support the idea that the music actually makes your sex BETTER, and who doesn't want that? Only the crazies, right? Researchers have found that when listening to music, our brain releases dopamine (one of those "feel-good" chemicals.) In a collection of separate studies, multiple connections between music and brain activity have been uncovered. Music (especially music you like) helps focus and productivity! And what's worse than when your mind starts wandering mid-coitus? Bumpin' tunes in the background helps your brain hone in on the hot happenings at hand.
Everyone's sex playlist will naturally turn out differently. My music collection, for example has a large R&B base saturated with oldies and sprinkled with moody indie rock. So, naturally, there's gonna be a lot of those types of songs in my love-makin' list. My friend Eddie's music collection, however is comprised of more current pop music, and my other friend Madison listens to nostalgic classic rock and some EDM. The music you choose to have sex to will naturally reflect your personal style and tastes. There are a few types of songs that you definitely should not leave off your list:
The Instrumental Track
There are several occasions in which instrumental tracks fit perfectly into our lives. There's studying, meditating, working out, waiting in the lobby at the spa, and of course, doing the nasty. Music often plays to provide a mood and sometimes words get in the way. In my baby-makin' playlist, my favorite instrumental track is Stormy by The Meters.
The Fast-Paced Track
Your sex playlist should just be made up of slow romantic ballads and swoony jazz vocals. Of course, these are staples of love-making music, but a change of pace should be welcomed in any sex session. Playing a song with a faster beat can prompt a fun change of pace or position that will intensify the intercourse! Songs on my playlist to pump it up are Bulls on Parade by Rage Against the Machine and Gimme by Jill Scott.
The Track Explicit Sexual Lyrics
This might seem like a no-brainer but the power of suggestion is a mighty one and is often overlooked. Songs that literally talk about the act of sex and explicitly describe what the singer wants to do to the object of his/her desire can't help but get our juices flowin'. Some of my faves are What's Your Fantasy by Ludacris and Rope Burn by Janet Jackson.
The Unexpected Cover Track
Some songs aren't so sexy sounding…until they're covered! It might take you a couple seconds to recognize what you're hearing, but by the time you do, it's oh so good. Check out While My Guitar Gently Weeps by Jake Shimabukuro and Fell In Love With A Boy by Joss Stone.
The Obscure Track
Everyone has songs in their music library that aren't exactly "mainstream." Whether they come from a local band, an indie artist, or your cousin who recorded his original music on GarageBand, obscure songs can delight new listeners and pique their interest. Sticking one in your sex playlist can pleasantly surprise your sex partner with something new, give you something to talk about post-coitally, and it might even gain you some "cool points." Some lesser known songs on my list are Sex (I'm A) by Lovage and Where Is My Love? by Cat Power.
The Romantic Track
Some of the sex you'll be having will probably be the slow, smooth sensual kind. For that occasion, you'll need some similar feeling music to amplify the romance. I'll Be Seeing You by Billie Holiday and La La Means I Love You by the Delfonics hit the romance nail right on the head.
The "Guilty Pleasure" Track
These are those songs that you sing along to with all of your heart, but only when no one is around! They might be from your tween years or your parents' music collection, but one things for certain: they're so bad they're good. For example: I Wanna Sex You Up by Color Me Badd.
Laurie's baby-makin' playlist: