Baby It's Cold Outside, But It's Warm In The Bedroom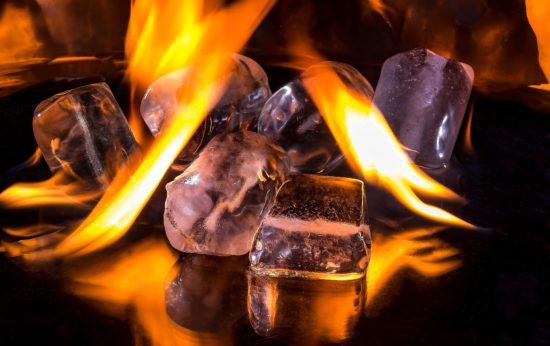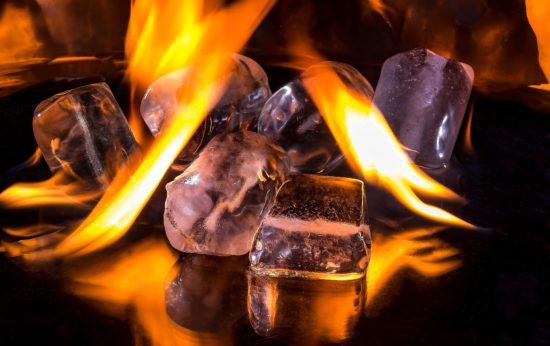 Though someone acting hot and cold is a total drag, consensually acting with hot and cold can bring your bedroom routine into a whole new climate. No matter who you are, adding new sensations between the sheets can help you and your partner discover new things about your own bodies and desires.
You can rub an ice cube down your partner's back or use a heated massage oil. Either way, incorporating temperature play into your sex life is an exciting and arousing way to connect with your partner.
While temperature play may often be linked to sexual encounters on the kinkier side — playing with hot and cold can be as low-key as you want it to be. Though you may want to add to your arsenal of sexy toys and treats, there are plenty of DIY ways to get down with heating and cooling. Of course, like trying anything new between the sheets, temperature play requires a lot of communication — before, during, and after. While surprising your partner with a melted ice cube or a heated massage can be sexy, no one wants to be caught off guard with a brain freeze or burn.
If you're thinking about turning up the heat in your bedroom, here are 6 tips for experimenting with temperature play.
Ice, ice, baby
One of the easiest (and cheapest!) ways to experiment with temperature is to bring some ice cubes into the bedroom. You can put them in your mouth and rub them all over your partner's banging bod. Keep an ice cube in one hand and a hot towel in the other to create a hot-and-cool sensation. Whatever you choose, ice cubes can be a great way to dip your toe into temperature play.
The joy of toys
Switching up the temperature of your toys can give you something new and exciting to play with all year long. If your favorite vibrator is waterproof, try dipping it in hot water or throwing it in the freezer.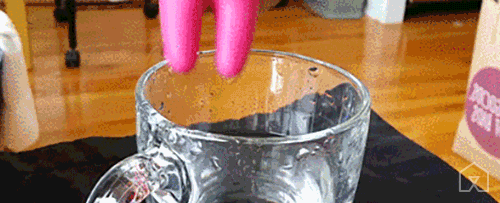 Perhaps you're more into dildos or plugs — great! Whatever the case, adding some heat or chill to your favorite toys can give you all sorts of new sensations. It can also be great for some solo temperature play.
Make it a pot-luck party
Bringing food and drinks into the bedroom can be another way to start with temperature play. Drizzle some warm melted chocolate all over your boo or teasing them with cold whip cream. Maybe you take a sip of hot tea before licking your partner all over or put some frozen fruit in your mouth before you give them a deep kiss. No matter your tastes, snacking during sex can make for some extra sensations.
BYOB (Bring your own blindfold)
If you like to live on the edge, (read: you really trust your partner) adding a blindfold to your temperature play can be extra exciting.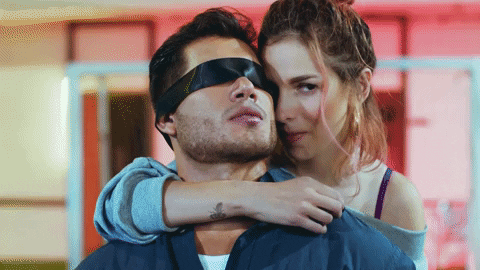 When you can't see what's coming next, your body is in a state of complete excitement and anticipation. Hot! And cool!
Live, laugh, lube
I'll be the first to say that lube makes any and all sexual encounters better. If you're interested in temperature play, finding a heating/cooling lube can really kick things up a notch. Slather it on your own toys or use it with a partner! Adding different lubes to your sex life can change the way you feel pleasure.
Yes you Can-dle
While movies or TV may depict lovers pouring regular melted wax on each other, you may want to work your way up to a Yankee Candle bath. Massage candles or candles made from massage oils burn at a lower temperature, meaning it's slightly less intense than regular wax.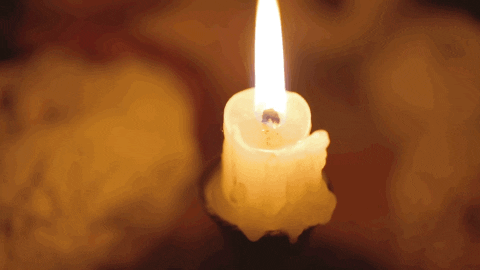 Additionally, massage candles melt into body oil that can be worked into your skin during a sexy massage or foreplay session — rather than a regular candle that will melt and then harden onto your body. (THB, not as cute.) If you don't want to shell out for a massage candle, heat up your favorite lubes or body oils! This can be a great way to play with new sensations. Of course, it's important to be extra careful when handling hot liquids — testing it out on your hands is a great step before pouring it all over more sensitive areas.
***
From spicing up your foreplay with edible body paint to heating or cooling your favorite toys, a little change in temperature can make a really big difference.
---
Griffin Wynne is a non-binary writer, artist, and plain seltzer drinker. When they're not discussing sex in the ~digital era~ or crying to the Dixie Chicks, Griffin enjoys camping, reading, used clothes, and documentaries about cults. They're a Capricorn King, a genderless cowgirl, and a '70s mama who is always down for dollar oysters and road trips. Griffin uses they/them pronouns and has the same birthday as Kyle Richards.