How Do You Have Gay Sex?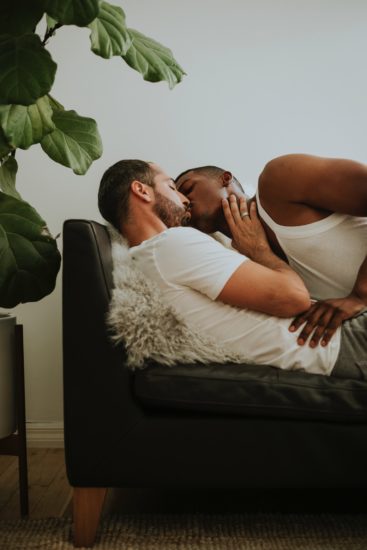 Gay, straight, or otherwise, you know you've at some stage of your life, had the burning question:
"How do you have gay sex?!"
Whether you're a fledgling lesbian, wanting to spread her wings (some pun intended), or a curious middle-aged straight guy from the midwest. You want to know.
Today we dive into the various ways to have gay sex and answer all your questions.
Let us count the yummy ways….
How Do You Have Gay Sex?
Gay sex is a huge topic, so let's narrow it down, shall we? It is like saying let's talk about "sex." It covers a similar swath of ground.
So, let's pin down what "gay sex" means. For the purposes of this article, "gay sex" means sex between two people of the same or similar sex/gender. It can also cover a range of activities among non-binary people or between folks who don't have a defined sex or sex organs.
(This article can also help those of you heteros learn how to talk about gay sex with your queer friends. The ones who, if asked, would probably say, "Yeah, we do get tired of having to educate your hetero-normative ass all the time when you say ridiculous stuff like, 'how do you guys DO IT???'").
Do you have to identify as "gay" to have "gay sex"? The answer is: no. Gay sex is egalitarian and without labels. Now let's dive into it!
With your own gay self
Didn't see this one coming, did you? Yes, we should not forget that you can have gay sex with yourself. Whether it is masturbating to gay porn, or imagining yourself having sex with a member of your sex/gender. Gay sex includes pleasuring yourself in any way using your imagination.
Perhaps you haven't come out yet. Or you don't know if you are gay or what your sexual orientation is. This is a good chance to explore and find ways that gay sex might turn you on.
Regardless of your gender, you can use a vibrator to stimulate erogenous zones in your body as you find pleasure in your gay fantasies. Or you can use a memory to cum to while you masturbate. The hottest gay sex I ever had was at a swinger club where I started dancing with the most beautiful woman who had classic 1940s movie star looks. We took the dance to the bedroom and I went down on her and enjoyed her incredible feminine body as she enjoyed the pleasure I was giving her. It was magical. I have used that memory over and over again in my masturbation fantasies.
Between vulva-owners
Gay sex between female-identifying partners can include a plethora of activities, and of course, not all geared toward the big "O." Enjoying the spectrum of sexual play here can include: kissing, scissoring, fondling, fingering, using dildos/pegging, oral sex, and much more.
According to Urban Dictionary, scissoring means "A Lesbian sex act where two partners interlock their spread legs (like two pairs of scissors) and grind their vulvae together to stimulate each other's clitoris to orgasm." This has the added benefit of interlocking your bodies and touching genitalia and putting lots of pressure on the clit.
Whereas fingering provides an opportunity for penetration, and, more importantly, a better view of the beautiful and powerful pussy (as well as eye contact, which can be extremely arousing and bonding).In addition to these activities, gay sex can include BDSM and kink, which could include impact play, role play, bondage, and topping/bottoming or dom/sub power play dynamics.
Lesbian sex can also include toys! Strap-on sex (as opposed to fingering) can allow one partner to penetrate and keep her hands free to touch and explore. Go on a pleasure journey together.
For a primer on the many different ways you can have lesbian sex, I highly recommend the movie, Blue Is The Warmest Color. There is a long sex scene in that movie that covers the gamut of positions and activities. It should be a primer for nearly anyone wanting to get their gay on with a girl.
Between penis-owners
It's not all about the anal here ya'll. There is a misperception that all gay sex between penis owners is anal penetration. While two penis-owners might be tempted to go straight for the goal line, there is a whole range of fun that can be had prior to getting there. You can get it on in a vast array of ways.
Including, but not limited to rimming, spanking, mutual masturbation, and oral. Don't forget group play. Frankly, I think observing men have sex (ie, "boy play" in the kink world) is super hot, so let me watch!
Again, BDSM and kink provide another layer of gay sex for men and many ways for men to role play. Maybe you are a "power bottom" and give the best oral or rim jobs. A power bottom is explained by Urban Dictionary as: "While a bottom is usually submissive to his partner, a power bottom enjoys maintaining control over the top and/or the penetration, the normally dominant role in gay male sex".
Whatever your role or position, gay sex can be the wild west and is a chance to explore your cravings.
Sex "beyond the binary"
Gay sex isn't always between two people of the same gender or sex organs. Our western notion of sex and gender can be very binary, and boxed-in. The old-fashioned definition of sex as between a penis and a vagina, or heteronormative ideas about gender roles in sex has caused many to suffer.
Because of this, sex can sometimes be emotionally complicated for a trans, genderqueer, questioning, or non-binary person. Here is where you want to throw out heteronormative ideas about gendered sex. I mean it is 2019 people, come on!
In less binary sex, there are generally speaking no opposites. No set binary power roles (ie, dominant or submissive), and no need to perform gender during sex (ie, the ideas that the "masculine" one does the penetrating, etc).
This is a great summary that explains the concept of "non-binary":
"To be nonbinary is to identify as other than male or female: as multiple genders at once (pangender or bigender), as neither (agender), as androgynous (androgyne), etc. To be nonbinary can mean your gender identity can vary (genderfluid/genderfucked/genderqueer), that yours is a gender specific to your culture (Two-Spirit or third gender, etc), or that you identify with a binary gender like man or woman but not exclusively or all the time (demigirl/demiboy)."
Sex for non-binary individuals and couples can be a free-flowing event, full of fun and exploration and a focus on the body as it is without gendered sexual language or ideas. I agree that "we all can benefit from a sexual understanding that transcends gender essentialism."
For example, sex doesn't have to be about penetration or who performs which type of activity or role. Create a safe space and listen and respond to your partner. Because sex in this context is so open-ended, you can explore all the ways your bodies respond to certain touch.
If you want to identify an activity as an association with a certain gender you can. Try playing with these ideas during masturbation. Again, toys can be helpful to incorporate here. The main focus should be on communication and ensuring that your non-binary partner is ok with the language you are using and the touch you are giving. How you talk about sex is nearly as important as what the sexual activity entails.
***
So now that you have had just a little taste of the different ways you can have gay sex, get your gay on and explore!
---
Emily Anne is a bestselling author, sex coach and educator, who specializes in helping people expand their sexual horizons through BDSM and kink. When she's not obsessively talking about sex, she's hiking through the Hollywood Hills. Get some sexy education on her Instagram feed!