Please And Play With Your Body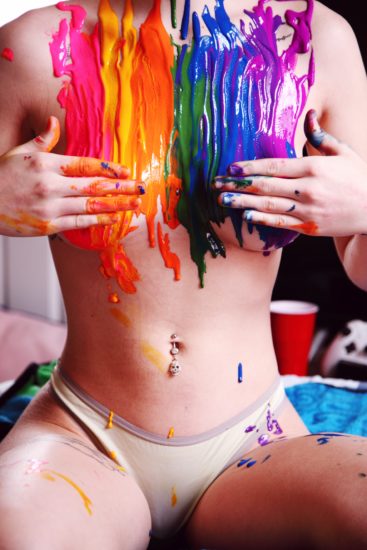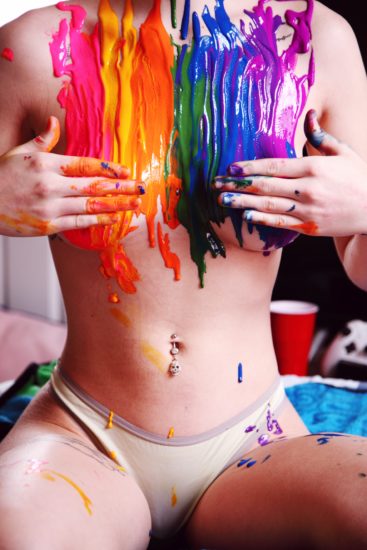 With some states coming out of Covid-19 lockdown, many people are venturing out, having BBQs, trying to responsibly socialize and might feel like they have been let out of jail of social "confinement." During the past few months of quarantine time (and especially since May was Masturbation Month), a lot of people have been focusing on masturbation as sexual release. Yay! But don't let up on this focus just because you are potentially unleashed into the world and able to start to touch others.
This month is Pride month, and this year, our focus here at Sex With Emily during Pride is "playfulness." In the theme of playfulness, finding new ways to play with your body is one of the best ways to spend Pride month!
Here are some ways you can "play" with your body.
Explore
Curiosity might kill the cat, but it does wonders for your pussy! Exploring your body is a foundational part of knowing what pleases you!
Most of the time, pleasure originates in your bodily sensations. So…explore ALL of it. Don't just go straight for your genitals – tease yourself a little. Use your hands to find all your erogenous zones. Run your fingers along your ears, neck, lips, chest, etc. just like a lover would. In fact, you can get your partner to do this as well. Notice the sensations.
Using your sense of touch to stimulate other parts of your body can add to the intensity of your orgasm. You'd be surprised at exactly how different it can be. You can play with heat, you can play with impact, with moisture, with sound, when it comes to sensation play, the possibilities are endless! Some people are even able to have nipple orgasms, without ever touching themselves down South. Wouldn't you like to find out if you're one of them?
Toys, duh
We are big fans of sex toys over here. Use a sex toy to explore your pleasure! There are so many to choose from, but let's focus on a few we like. Playing with your body…includes "play" and what play would be complete without TOYZZZ!! Here are a few we love.
The Magic Wand is one of my favorites. Did you know that you can use a vibrator like the Magic Wand on pretty much any body part? Vibrating different areas of your body is a great way to loosen up before sex or masturbation. It's like giving yourself a little massage! This powerful vibrator is the world's best-selling massage wand. Go to town anywhere and everywhere on your body!
For a less classic approach to clitoral stimulation, try the toy that gloats 60-second orgasms for users. That's right, I'm talking about the Womanizer. This toy perfectly pinpoints your pleasure spot and using Pleasure Air Technology, it actually sucks on your clit. It's gentle in its strength and people with clits all over the world sing its orgasmic praises. With 6 different models to choose from, you can't go wrong with a Womanizer.
Playing with your body wouldn't be complete without mentioning having a healthy, strong body. I would be remiss if I didn't mention the Yarlap, which helps to strengthen your pelvic floor. A strong pelvic floor can mean deeper, stronger orgasms! In addition, a stronger pelvic floor can mean better ejaculation for male-bodied folks, but I digress because the Yarlap is for people with a vagina. The Yarlap is FDA-approved high quality medical device for incontinence, which is related to the operation of the pelvic floor muscles. So, if you want to amp up your sex life and sexual health, give the Yarlap a try! Learn more here.
Partner play
Playing with your body doesn't always just happen solo. Sometimes sex happens with a partner/group, and shared intimacy is no exception to playfulness. After all, as kids we played with other kids. Sex is adult play. So grab your partner and find some fun ways to play with both of your bodies.
You might want to consider playing some bedroom games. For the adventurous set, check out this article on some BDSM games. I like to do some sensory deprivation, like blindfolds or a dark room. I usually tell my top or dominant clients when they set up a BDSM scene to have the bottom or submissive put on a blindfold and wait in the room on the bed for them to enter. This way, you can hear their footsteps and wonder what they are up to! Sensory deprivation is a good way to incorporate an element of mystery or surprise. Thrilling!
If you and your partner are into using toys together, I suggest a couples' vibrator like the We-Vibe Chorus. It's a powerful, hands free, dual-stimulation vibe that ensures an amped up sexual experience for all people involved. When worn during sex, it stimulates the clitoris, the G-spot, and the penis at the same time. Not to mention, its app capability is unmatched, using a new kind of technology linking the toy to the app.
For something a little more traditional, gear up for a sensual massage. Try a warming massage oil from Exsens to turn up the heat a notch, and slide around each other's bodies.
Whatever path of play you decide to go down together, remember to explore each other's bodies and erogenous zones. Start a sexy conversation about what feels good, what makes you feel the most turned on, how sexy you feel, etc.
Boost your creativity with some ethical porn
Playing with your body starts in your mind. Sometimes your imagination needs a helping hand with some visual and auditory stimulation. Enter PORN! I think porn is a great way to get ideas for sexy scenes and ways you can explore your body and sexual pleasure. After all, someone (ie, a director) had to come up with a sexy scenario to shoot!
Not all porn is created equal, however. If you're into a more sensual and thought provoking porn foray, check out Erika Lust as well as Foreplay Films. Get some ideas. Heat up the room and explore your body and/or your partner's. Reenact a scene or riff off one. Remember to keep it playful, and don't hold yourself to unrealistic pornographic standards. You are sexy and you know it!
***
Playing with your body starts with a relationship to yourself. So have some fun with your body and have a playful Pride month!
---
Emily Anne is a bestselling author, sex coach and educator, who specializes in helping people expand their sexual horizons through BDSM and kink. When she's not obsessively talking about sex, she's hiking through the Hollywood Hills. Get some sexy education on her Instagram feed!