Quarantine Weddings: 6 Ways To Tie The Knot In A Pandemic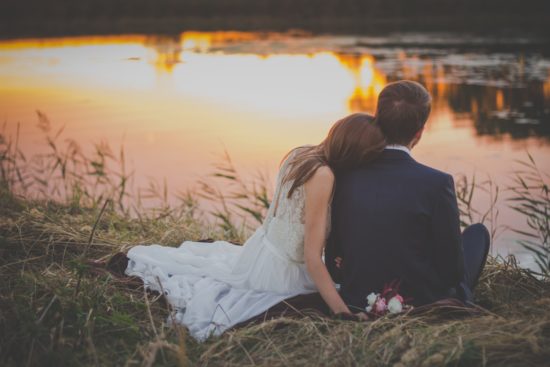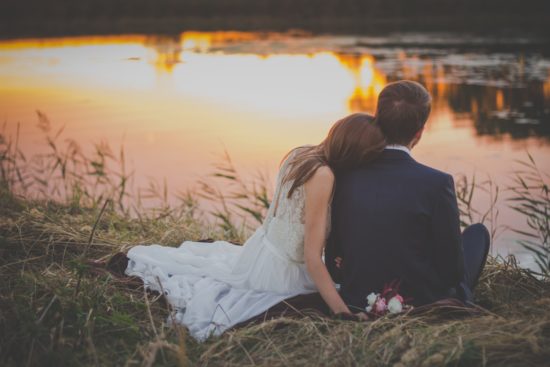 When you're planning a wedding, a million things can go wrong. Add a global pandemic on top of it all? Talk about next level wedding stress.
Staying cooped up in quarantine has been a struggle for most. However, for those who were looking to tie the knot this year, it quickly became clear that things were going to look a bit…different than they originally planned.
Between masks, social distancing, and the cancellations of mass gatherings, we're all adapting to life in a post-quarantine world. But that doesn't mean the novel Coronavirus has to fully rain on your wedding day parade!
Instead of giving into matrimony mayhem, couples everywhere are taking back the reins and finding all kinds of ways to keep their nuptial train on track. Fiancees are throwing those months of planning out the window. Here are 6 ways you can say "I do" with a creative, covid-friendly twist.
1. VIRTUAL WEDDING
It feels like we're using video chat for just about everything these days, so why not weddings, too? Sure, it isn't quite the same as having all the friends and family there IRL. But thanks to the wonders of technology, you can get pretty close!
If you're able to, you can carry on with the ceremony at your original venue. If you can't, you can opt for a more impromptu affair at a local park, beach, or your home. With the power of streaming, most everyone can be in attendance. So there's no tricky paring down the guest list, or special seating arrangements required.
2. SOCIALLY DISTANT WEDDING
Depending on location, and the size of your guest list, one potentially convenient option is to proceed as planned in socially distant style.
Just as we've adapted to new safety procedures in the rest of life, you can implement these practices into your wedding day. Measures like spacing out chairs, drastically reducing your guest list, paring down your itinerary, and maximizing outdoor time are relatively simple precautions that don't require a ton of extra effort. Oh, and of course, make face masks a mandatory component of a safe dress code. Remember that the health and safety of you and your loved ones is of prime importance.
3. SELF-UNITING CEREMONIES
An additionally inventive way to get hitched in the age of Covid-19 is to just marry yourselves! In the form of a self-uniting ceremony.
This type of ceremony that is legal in some states, is where one member of the couple actually acts as the officiant themselves, instead of having a traditional third-party marry them. Needless to say, it's a pretty quick, cheap and efficient alternative to doing the courthouse routine alone. So if you find beauty in simplicity and just want to relish in the moment, this is the option for you.
Although, despite the marriage being recognized everywhere, actually holding a self-uniting ceremony is only technically allowed in certain states. So if you decide to go for it, be sure to do a little research first.
4. DRIVE-IN WEDDINGS
If it's good enough for Vegas, then why can't it be good enough for the rest of us?
We've all heard about drive-in movie theaters making a comeback amidst the stay-at-home shutdown, but it turns out similar setups can also totally work for weddings.
For those who are all about efficiency, there are some places that operate like a fast-food drive-thru where you don't even have to get out of your car. But for those looking for a creative spin on many of the traditional elements of a wedding ceremony, other drive-in venues have an area or stage where the couple stands in front of a parking lot where all of their friends and family gathers to watch from their own cars. After the knot is tied, everyone can then clap, cheer and honk their horns in commemoration of being able to be present for the big day… Even if you never dreamed that day would take place on so much asphalt.
5. ELOPEMENT!
An oldie but a goodie, eloping is a classic way to subvert wedding traditions and focus on the romance.
If your date itself holds a special significance, or you just want to get all of the official paperwork out of the way, you can always slyly seal the deal now and commemorate later.
Plus, a lot of venues and hotels are currently offering special quarantine-oriented wedding packages, so you might get some extra bang for the buck. And there's always the promise of a party with your people once everything's a little more (potentially) under control.
6. PLAIN OL' FASHIONED POSTPONEMENT
When in doubt, there's also just postponing! With so much uncertainty and mixed feelings abound, it might make sense just to give everyone some peace of mind in knowing that no one has to deal with a wedding for now.
This leaves you with no tricky decisions to make. No hurting anyone's feelings. Just putting it all on hold to deal with what the rest of the world is throwing at everyone. Then, in a few months (hopefully) down the road, the whole group can hopefully join back together and finally celebrate the day stress free.
***
Covid-19 may have cancelled a lot of things, but love doesn't have to be one of them!
It's definitely a bummer having to alter and/or postpone such a big day you've awaited for so long, but in the end, weddings are about solidifying the bond between you and your boo, right? So that should be all that matters – no matter where you are, or who's there to see it.
Who knows what our "new normal" is going to look like, but if one thing's for sure…quarantine weddings will all be days to remember.
---
Alex Anderson is an LA-based lifestyle designer proactively raging against the cultural grain. By day she works in television production, and by night enjoys writing, sewing and seeking guidance from the stars. She also finally has an all black kitty named "Cher." You can follow her alt-lifestyle blog MSFT Living and on Instagram!