SEX TOY MEDLEY: 7 'BEST OF' BLOGS & PODCASTS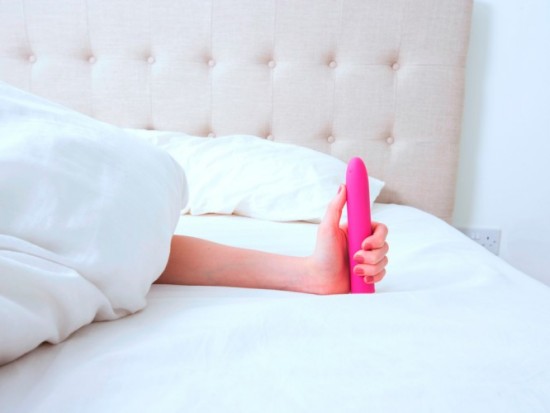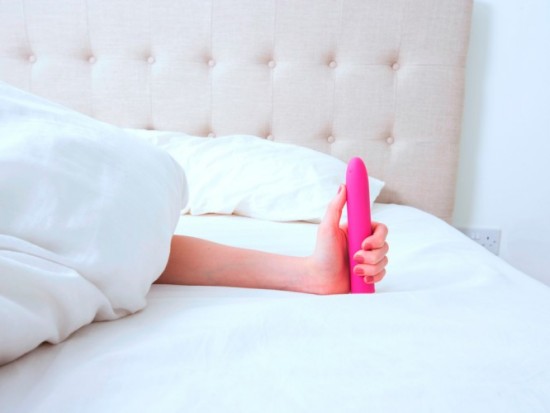 Love 'em or hate 'em, everyone has an opinion about sex toys. They've been around since the dawn of time and have a couple hundred years of controversy to their name. For something so hotly contested, as you can imagine, there are a LOT of factors to consider.
We LOVE them here at Sex With Emily, but we understand that everyone is different. So to make sure you have the full scoop, we've rounded up our favorite sex toy-related blogs and podcasts that can hopefully help open your eyes to everything they have to offer.
BLOGS
SEXY HISTORY: EVOLUTION OF THE VIBRATOR
For as long as there's been sexuality, there have been tools to aid the process. To be specific, we're talking vibrators! They date back a lot further than the past few decades. For anyone who's curious to know just how pivotal our buzzy BFFs have been for pleasure since the Stone Age, then we'd recommend kicking off this sex toy study session with our blog Sexy History: Evolution of the Vibrator.
WHY SEX TOYS ARE A GREAT ADDITION TO YOUR SEX LIFE
History aside, we understand that not all minds think alike. For some, toys are scary. For others, toys are NBD. But regardless of where you initially fall in the pleasure product debate, there are a ton of reasons why toys are totally worth adding to your sexual repertoire. Whether you're going solo, partnered up, or even long-distance, the perks are undeniable, as explained in the blog Why Sex Toys Are A Great Addition To Your Sex Life.
ARE SEX TOYS YOUR WINGMEN OR YOUR COMPETITION?
I know, I know. Those benefits aside, we all probably know someone who's STILL apprehensive. But once it's accepted that toys are enhancers, as opposed to rivals in the relationship race, consider the pleasure game officially changed. Because for all the right reasons outlined in the blog Are Sex Toys Your Wingmen or Your Competition?, these little gems can prove to be a wingman that would make Barney Stinson proud.
FIVE REASONS WHY MORE MEN SHOULD TRY SEX TOYS
And for those who think toys are just for the ladies, prepare to be amazed. Not only can they boost sexual satisfaction in general, they also incite sensations that many penis-havers have never before experienced. Sound too good to be true? Then buckle up, cowboy! Just one glance at the Five Reasons Why More Men Should Try Sex Toys could quickly have you wondering where these sexy devices have been all of your life.
PODCASTS
NO SHAME IN THE GAME: SEX TOYS FOR ALL
With all of that said, it's no secret that women tend to receive the most attention from sex toy manufacturers. However, when it comes to one of our all-time favorite brands We-Vibe, they're making a point to include everyone's pleasure in the equation. In the podcast episode No Shame In The Game: Sex Toys For All, Emily sits down with We-Vibe's Global Passion Ambassador, Tristan Weedmark, for a candid conversation about the importance of toys and the sexy experiences they can bring. Discussing the company's uniquely innovative approach to engineering, the two get into how toys can totally change one's perspective of sex. They discuss why masturbation is essential for a healthy sex life and tips on how to make the most of their signature We-Connect app— which, as we frequently shout from the rooftops, sets their products apart from all the rest.
FOR THE LOVE (& CRAVE) OF SEX TOYS WITH TI CHANG
What truly goes into the process of designing sex toys in the first place? To answer all of this and more, Emily is joined by Ti Chang, Co-Founder and Lead Designer of pleasure brand Crave, in the inspiring episode For The Love (& Crave) of Sex Toys. Diving deep into their company's extensive creative, research and design procedures, the duo sheds light on why we're living in the "Golden Age of Sex Toys" and their mission to help quash the embarrassment surrounding self-love at large. It all starts with one of the most notoriously elegant, bold and discreet vibrators around: the Vesper.
SNUG PLUGS, BUTT HUGS & B-VIBES WITH ALICIA SINCLAIR
Now, on another side of the toy spectrum, there's anal. Emily sits down with sex educator and creator of anal toy powerhouse b-Vibe, Alicia Sinclair, in the episode Snug Plugs, Butt Hugs & b-Vibes to discuss the ins and outs of everything butt play. Together, they tackle why anal play is so often misunderstood, tips for how to enjoyably explore it, the significance of harnessing pleasure behind different parts of the body, as well as the various types of anal toys and techniques in general. Because contrary to what you might think, it can be pleasurable to everyone… so long as you do it right.
TOY TAKEAWAYS
Whether you're a sex toy sage or novice on the fence, it's a plain and simple fact that it's something worth exploring.
As with everything in the realm of sex, it's important to go at your own pace. But with knowing all the pleasure possibilities these little tools are capable of unleashing, it'd be a travesty to knock them without giving a solid try.
If you give it a go and feel as though it's not for you, then that's totally A-OK. You did your best, and quite frankly, not everything is going to be for everyone. If you enter the situation with an open mind, relaxed body and curiosity to expand your sexual horizons, then hopefully you'll see that the tantalizing arena of toys is one worth embracing.
---
Alex Anderson is an LA-based lifestyle designer proactively raging against the cultural grain. By day she works in television production, and by night enjoys writing, sewing and seeking guidance from the stars. She also finally has an all black kitty named "Cher." You can follow her alt-lifestyle blog MSFT Living and on Instagram!