I'm so excited that my first trip to San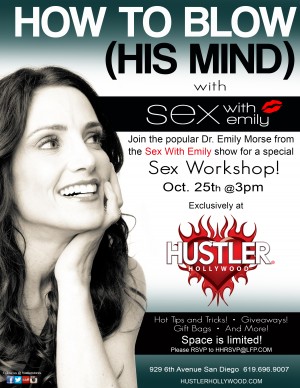 Diego will be to teach a workshop "How to Blow (His Mind)" at the legendary Hustler Hollywood Store.
The workshop is for men, women and couples. If you want brush up on your bedroom skills and learn some new tricks that will blow anyone's mind (even your own because hey, masturbation is sex with someone you love) then I better see you there!
I'll be covering everything from how to be an oral sex master, the best toys and products on the market to enhance your sex life and sharing the most important things you need to know to have the sex life you want and deserve.
Continue Reading