Raise your hand if you're the kind of person who struggles with Valentine's Day. We get that. If you're in a relationship, it's not always easy to know how hard you should go with your V-Day gifts, and if you're single, the holiday can feel just plain ol' annoying. But in our opinion, Valentine's Day is a day that's all about loving, whether that's your partner, your friends, or (most importantly) yourself.
So if you're one of those people who has absolutely no idea what to buy for Valentine's Day, don't freak out. We've done the work of finding and selecting the best Valentine's Day gifts for everyone (and we mean everyone) in your love life. Read on for candles, flowers, and a ton of sex toys in our 2021 gift guide.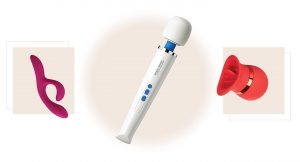 For someone who needs a sex toy:
If you're looking for something to start off with, let us introduce you to the We-Vibe Tango X. This bullet vibe is perfectly sized, powerful, and discreet. It's the bestselling bullet vibrator, and who wouldn't want such a cute toy? Perfect for the friend who's never been to Sex Toy Land, this little vibe can be used to stimulate the vulva externally and even to explore erogenous zones.
We'll never stop talking about the necessity of a Magic Wand, especially if you're on the prowl for the best Valentine's Day gifts. If one of your friends doesn't yet own a sex toy, this is a perfect option to set her up for success. Known as "the Cadillac of Vibrators," the Magic Wand will take you to clitoral orgasm heaven. Don't be shy about gifting this vibe—your friend (or you) will be hands-down grateful.
Looking for extra play? Our friends at Good Vibrations and We-Vibe has the perfect vibes for you. The Nova 2 Rabbit Vibe is made for clitoral AND G-Spot stimulation.  We've come a long way since the original rabbit vibrators, and this one is made to flex and move as you want it to, and has an ergonomic grip for a comfortable grasp.
Penis owners deserve to be loud when they O, why not help out with Screaming O? We're especially impressed by their selection of penis rings, which are made with body-safe True Silicone for comfort and easy cleaning. They also have great stretching capabilities and allow for a no-slip grip, making them great for penises of all shapes and sizes.
Do you know someone who could really use more oral in their life? The French Kiss from Overkink is probably one of the most unique (and fun) sex toys available. This compact massager fits just between your fingers and delivers powerful flickering pleasure, with 12 sensual functions of fluttering vibrations. The tongue-like tip is carefully crafted to hit those intimate pleasure points, making this tiny toy pack quite the punch.

For the person who wants to kink it up:
Nothing beats a gift that pleases the receiver and the giver. This edgy and elegant gift box from Lickerish Love is designed to stimulate seduction and engage your senses, making it the perfect present for date night. (Either with yourself or with a partner.) Inside you'll find a little ostrich feather, satin sash, crave vibrator necklace, petite butt plug, stainless steel pinwheel, essential oil massage candle, three rose quartz kegel eggs, and a body care pack. There's literally something for every aspect of your sexual wellness routine, so get shopping! Sex With Emily readers also get an additional 15% off on all site products with the code EMILY15, valid until February 15.
(Lickerish Love is donating 10% of sales from this box to support Population Services International, an organization reimagining how to bring quality healthcare closer to those who need it most. Woo!)
Made with the purest ingredients, this German lubricant is by far the silkiest one out there. Pronounced "pure," this brand has different types of lubes for vulva owners, penis owners, AND anal play. Another bonus? They carry silicone- and water-based lubes for all your pleasure needs. Not sure which lube is best for you? We've got you covered.
When it comes to the best Valentine's day gifts, your mind might not immediately go to tape. But trust us here, because Good Vibrations has a special type of tape that's perfect if you and your partner are looking to explore some creative bondage. This adhesive-free tape only sticks to itself, so say goodbye to any uncomfortable snagging and painful removal (and hello to a kinky night in).
Most of us haven't played Truth or Dare since our high school days, but we found a version that's great for consenting adults. Less awkward (and more fun) than the old school version of the game, this little box has 50 naughty questions and challenges to share with your partner. The questions and challenges aren't gender-specific and perfect for some kinky inspiration. Another perk: it's easily portable so you can take it with you on a sexy couple's vacation or have it close on a cozy night inside.
Full of sexual inspiration, this isn't your regular coffee table book. This book is perfect for novices and seasoned lovers, looking to inspire foreplay, techniques, games, and kinky schemes. Keep it hidden in your nightstand for a surprise, sexy game night or leave it in the living room for an epic conversation starter.
How about some dessert after your romantic dinner on V-Day? Muse Intimacy has the BEST flavored lubricants to enhance your oral game. It's 100% edible, sugar-free, safe for condoms, and hypoallergenic! Great for those who struggle with oral, this lube comes in flavors like salted caramel, crème brûlée, and mint chocolate chip. Who wouldn't want to taste that?
Take pleasure to the next level by revving up sensation with this easy-grip finger vibe. We're obsessed with how easy it is to use—the single large button makes it great for both solo and partner play. Simply turn it on and press your pleasure points to enjoy a vibe ride you won't forget.

For your man/husband/boo/sexual partner:
You know how much we talk about loving the Womanizer? Well, they finally used their iconic Pleasure Air Technology to make a sex toy for men—and we're obsessed. Get your hands involved and use it as a stroker, or wear it as a sleeve and let those pulses of air stimulate the frenulum. (You know… that super-sensitive spot on the underside of your penis?) If your man is shy about sex toys, he definitely won't be after this one.
Whether you've been together for 5 months or 5 years, you can't go wrong with a solid pair of boxers. Especially if they're like, the comfiest boxers ever. Available in a variety of silhouettes, styles, colors, and fabrics, we're especially impressed by their SuperFit and SuperSoft varieties. The SuperFit is cool to the touch, quick-drying, flat-stitched, and generally amazing, while the SuperSoft is perfect for those who prefer a snugglier, more cloud-like fit.
Who doesn't want to stay in bed longer? Promescent has the perfect products to enhance your bed play. Their delay spray is easy to use and clinically proven to help penis owners to last longer in bed. Another perk? It won't rub off on your partner and it increases orgasms by 50%!
A toy that looks and feels good is certainly on our list of best Valentine's Day gifts. This block is made with a soft elastomer that suspends textured shapes, perfect for adding extra stimulation and sensation to masturbating. It's reusable and easy to wash, and it looks super discreet–looks alone can't tell you the pleasure it is capable of.
Looking for something personalized to show your man how much you care? This wonderful Etsy shop offers everything from customized cufflinks to wallets to bowties. Plus, you can feel great about supporting a small business.
Don't let your man ever neglect skincare ever again. This bundle from Bevel skincare has all the essentials to take care of cleansing, toning, and moisturizing. It's also made with the most natural and essential ingredients to ensure his skin is perfect for extra kissing on V-Day.

For your gal-entine:
It doesn't matter if your friend is a sex toy newbie or if they've already got an arsenal of vibes hidden in their nightstand—the Womanizer is a must-have. Known for its patented Pleasure Air Technology, the Womanizer is exceptional at creating out-of-this-world orgasms. What better way to celebrate Galentine's than by (not-so) subtly letting your friend know that she's worthy of pleasure?
Who doesn't love the sight of fresh flowers warming up their kitchen? Farm Girl Flowers provides exceptionally curated bouquets that remind your galpal of just how amazing she is. These flowers aren't just your standard red roses and white lilies. Rather, Farm Girl Flowers has a breathtaking selection that includes huckleberry-hued Callas, bubblegum-colored roses, and California-grown tulips.
Oh, how we miss going out for wine with our girlfriends. Luckily, with Vinovore's Wolfpack Wine Club, you can have high-quality, natural wines sent directly to your house. All wines are selected by Vinovore's owner/sommelier Coly Den Haan, and you can receive anywhere from 2-4 wines per month. Plus, all wines women-made, so you can shop knowing you're supporting a worthy cause. Support women winemakers and get your drink on!
Bring some beautiful artwork into your friend's home with abstract line drawings from Ivelisse Designs. These gorgeous designs capture the beauty of the female form in a way that's both tasteful and romantic.
Perfect for that sensitive soul in your life, Actually Curious is a card game designed as a movement to spread empathy. After all, nothing builds bonds more than being seen and feeling heard. It's the only game that used the science and psychology of emotional connection as part of the rules, making it a great way to skip the small talk and get real.

For the sexual wellness enthusiast:
One of the most neglected parts of our bodies is also the most important for our sexual health and orgasms: the pelvic floor! Working out your PC muscles helps fight urinary incontinence–say bye to the old sneeze-and-pee–and improves orgasms. In comes Yarlap, a discreet, small-and-mighty device that does your PC exercises for you by using Autokegel technology and small currents to tone your muscles.
To give your skin some extra love, Brown Girl Jane has perfectly balanced tinctures with CBD and other supporting cannabinoids. Their Day and Night bundle will quench your skin with what it needs, from reducing stress and inflammation to helping you sleep better at night.
Cooking, fashion, writing–and even sex and communication! You can learn it all with MasterClass, the hub of the best experts around the globe. Each course takes a deep dive into its subject matter and teaches you skills you can apply to your own life. Looking for a class to start? Why not Emily Morse's own course?
Just because our bodies change with time doesn't mean that sex and pleasure should never be the same. Tabu has created the perfect kit that includes a discreet personal massager and an organic lubricant, to ensure that pleasure is comfortable and even healing for menopausal and post-menopausal vulva owners.
One of the biggest names in sensuality has the perfect products to foment intimacy and pleasure–for you and your partner! Start off the night with a sensuous bath bomb with CBD and take the action to the bedroom with their intimacy gel and arousal spray. Relax your body and mind with these CBD products for a better bedroom experience.
When it comes to all-natural libido boosters, Apothecary has you set. Backed by 5,000 years of holistic medicine and science, their plant-based herbal blends deliver powerful results, naturally. Take them individually or mix them with your morning coffee, onto your oats, or any other meal. We're especially impressed with their Libido Boosting section. There you'll find everything from hormone balancing blends to adaptogenic Matcha powders and more.

For the person who loves cuddling/For the couple who loves touch:
Let's be real: we think real pants are taking a backseat for a little longer—so why not invest in your loved one's comfort? With these joggers from Mate the Label or Reona, you'll show your friend/partner/yourself that they're worthy of slowing down and staying cozy. After all, what better way to celebrate Valentine's Day than cozied up in a new (and beautiful) piece of loungewear?
Sexy and cozy should go hand-in-hand, wouldn't you agree? Helena Quinn robes are silky soft and exquisitely designed for total elegance and relaxation. They come in short and long lengths and are made with 100% silk.
Comfort can be elegant, too! This beautiful Ethiopian throw made with woven cotton is handspun and loomed by local artisans. It's lightweight and soft, so it's great to cuddle under with your Valentine or all on your own.
The Maude Massage Candle is a gateway to relaxation. Made from skin-softening jojoba and soybean oil massage, this candle is hand-poured and made with 100% cotton, lead-free wick, and cruelty-free, vegan ingredients. The combination of amber, cedar leaf, lemongrass, tonka bean, and Medjool date creates a rich and comforting aroma/one-way ticket to relaxation town. Plus, did we mention it doubles as massage oil?
Antimicrobial, but make it fashion! But seriously, we're obsessed with these little triangle scarves from Bleusalt. In addition to being literally the softest scarf we've ever laid hands-on, they're extremely versatile and can be used for so many different styles. Wear it as a triangle scarf around your neck, as an additional face covering, to tie up your ponytail or headband, or simply add it to your handbag for a little extra detail.

For yourself:
Part fab jewelry, part vibrator, the Vesper necklace is a statement piece that says, "I care about my pleasure." It's perfect for everyday wear or if you need a small vibe when you're on the go, and one of our favorite conversation starters. These little cuties come in three different colors (gold, rose gold, and silver) and come with unique engravings so that you have an easy way to access your pleasure mantra.
Candles make every room cozier, so why not treat yourself to a good one? This one from Martinique is presented in a unique handmade artisanal ceramic jar and is infused with the finest botanical fragrance oils. The wax is natural Soy & Bee and finished off with top quality wood wicks. Comfort, commence.
Literally, Any of These Books
There are few things better than curling up at home with a good book, and these are three we're obsessed with. First is Cleo Wade's new book of poetry, Where To Begin—perfect for those hoping to contribute to a world rooted in love, acceptance, justice, and equality. It reminds us of our ability to make small changes with big impact and encourages us all to do our part for a more just future.
We're also obsessed with this new book from adult film star and writer, Joanna Angel. Her latest book, Club 42, is a fast-paced choose-your-own-adventure erotic romp through the New York City sex scene. She allows the reader to follow their desires and leads them through a sexy maze of storylines. Finally, we have to recommend Dr. Emily's book Hot Sex, available through Amazon Kindle and Google Play.
Have you ever felt like maintaining your vaginal health was way harder than it needed to be? Yeah, us too. That's why we're obsessed with Love Wellness, a vitamin and supplement company with a sensible approach to self-care that's both body positive and backed in science. We're especially obsessed with the Boric Acid suppositories (don't put them in your mouth) for their ability to naturally balance out vaginal Ph. They also have "Build Your Own Box" options so you can create a subscription that feels right for you!
You don't need to be a rocket scientist to know that stress is at an all-time high these days. Take some of the pressure off by adding Prima's CBD products to your skincare routine. Designed to promote relaxation and bring the body back to a balanced state, Prima's products are created by wellness advocates/science enthusiasts and suitable for a wide range of skin types. Go ahead, pamper yourself.
Regardless of who you're shopping for, these gifts are sure to delight, please, relax, and tantalize. Happy Holidays! And remember to love yourself.
—
Amanda Kohr is the Content Coordinator at Sex With Emily. She also writes for VICE, Refinery29, Betches, and Hello Giggles. You can visit her via her website and Instagram.