Sexual Health and the City (and You!)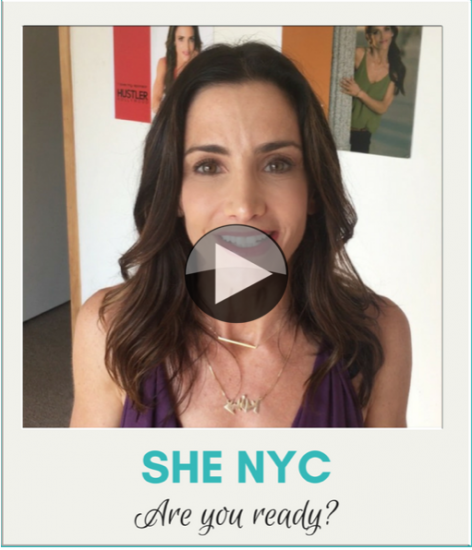 Get ready New York, because the Sexual Health Expo is coming to you THIS MONTH!
The two-day expo is being held on September 24-25 at the Greenpoint Terminal Warehouse in Brooklyn, and it's going to be jam-packed with seminars from sexual experts, new and exciting sex toys, workshops, and thousands of people just like you who want to learn as much as they can about having a healthy sex life!
So, what is SHE and why should you go? Besides just taking my word for it, here's some information that may just be that final push you need to get a ticket (because word on the street is, they're almost sold out!)
WHAT IS SHE?
It's an expo filled with factual and intriguing information about sex at an intimate and healthy level in a very sex-positive environment. While there may not be a physical dropbox, SHE will definitely have you leaving your inhibitions at the door. There will be tons of exhibitions, ranging from product demonstrations to intimacy workshops, all led by the top sex experts and educators. In fact, previous seminars have included such a variety of topics that would be beneficial to any adult of any sexual orientation. Topics such as tantric sexual experiences, online dating profiles, how to unlock your desires, and even debunking common sexual health myths! I even did a live podcast right from the venue at the last SHE in Los Angeles! This year, the seminars are only going to get better, and the sex talk even hotter.
WHERE'S IT GOING TO BE EXACTLY?
This year it is going to be held at the Greenpoint Terminal Warehouse, 73 West Street, Greenpoint, Brooklyn in New York. This venue has been host to many fine evenings, ranging from concerts to fashion shows to other fun, trendy events. Originally a WWII era warehouse, the Greenpoint Terminal uses some of its industrial charm mixed with a modern ambiance to appeal to individuals from all walks of life. It has open ceilings and over 10,000 square feet in space, leaving a lot of room for sexual exploration. For an added bonus, there's an abundance of places to dine surrounding the venue, so you'll be able to satisfy your appetite in more ways than one.
WHO'S GOING TO BE THERE?
THE BRANDS:
There are going to be so many tremendous exhibitors at SHE this year, with pleasure products, games, and so much more that will help to enhance your sexual experiences. From lubes to vibrators to condoms, SHE is going to have it all.
THE SPEAKERS: Sexual Ed sponsor The Pleasure Chest has planned out a weekend's worth of seminars on today's most relevant wellness topics – all  delivered by an array of sex experts I know and admire.
Check out the Sexual Health Expo website for a full list of exhibitors and the complete workshop schedule!
SO LET'S TALK TICKETS (WHILE THEY'RE STILL AVAILABLE, THAT IS!):
Thanks to the wonderful company that is We-Vibe, admission to the expo is going to be FREE for the first 2,000 attendees. Yep, that's right, completely free! Plus, they are giving out goody bags filled with sexy surprises! Talk about generosity.
So how do you cash in on this amazing offer? All you have to do is register online —But you better move fast. As of right now, the free tickets are almost gone! So, what are you waiting for? Get your free ticket now and join me at SHE! Can't wait to see you there…