Are Things Getting a Little Vanilla? Here's How to Add Some Spice!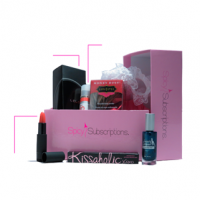 If you're like me, you haven't gotten over the thrill of online shopping.. and it's a problem. The problem is, with great online shopping power also comes great risk: What if you don't like the product? What if you have buyers' remorse? Now you have paid $45 for a face cream that makes you itchy, and you're stuck with it!
Well, now I found something that comes with much less remorse, and a whole lot of pleasure.
Monthly subscription services are all the rage. Popular sites like Birchbox and Ipsy send you sample products from all of your favorite companies, and you get different products to test every month for a small fee. This allows you to try the best products and decide what you like, before committing completely.
Now imagine this: what if you could get the same service, but instead of beauty products, a box of well curated sex products arrived each month? This is the exact service that Spicy Subscriptions provides.
When trying to choose the perfect sex toy to spice up your bedroom situation, it's easy to get overwhelmed, especially if you don't know exactly what you're looking for. My boyfriend and I have been looking to expand our goodie drawer, but we were hesitant to go out and buy a bunch of sex products without doing the research… And who researches sex products?
That is why Spicy Subscriptions seems like a dream come true. Every box contains an assortment of romantic gifts and adult novelty items, and each month has a different theme, so you never get the same sexy stuff twice!
I decided to treat myself and my boyfriend to some monthly spice, and signed us up for the classic Spice Box, which includes 1 "intimate item", 1-2 full-sized items, and 2-3 trial products for $29.95.
When my Spicy Subscription arrived, I was pleasantly surprised by the discreet appearance of such a sex-filled package. Inside was an adorable pink box, lined with tissue paper and filled with goodies, and nestled on top was a card that tells you exactly what treats you have acquired, what to do with them, and how much they usually cost.
Now I don't want to spoil the surprise, and every month is a little different, but my delightful Spicy box included a personal vibrator, handcuffs, a massage oil candle and some samples of flavored lubes and oils. Right away I felt like I had gotten my money's worth, and after my boyfriend and I played for a bit, I would definitely double that claim. It gave us an excuse to spend more time in the bedroom, trying new things and re-igniting our already fiery sex life. We can't wait to see what shows up on my porch next month!
Use coupon code "EMILY" for:
A free deluxe toy and 5% off your order!
OR
If you sign up for a 4 or 8 month subscription you'll receive a free deluxe toy and your first spice box for free!
Can't get enoughSex With Emily
Subscribe on iTunes and never miss your bi-weekly Sex Ed!