Vibe to the Beat (All Night Long) featuring the SYNC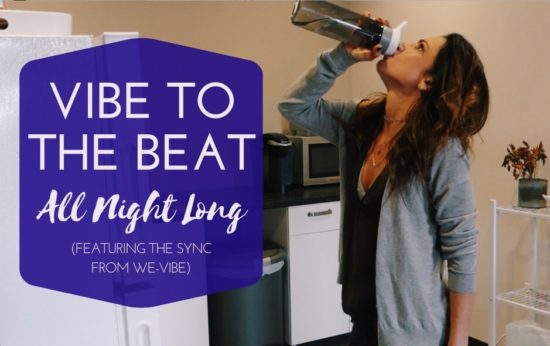 If you're anything like us, you appreciate the value of a solid sex playlist. It's the soundtrack that gets you in the mood, covers up any potentially unwanted (but completely natural) sounds, and that gets our bodies groovin'. Especially when your favorite song is in the mix, you sometimes feel yourself trying to sync your movements to the rhythm of the beat. Although we do like some things to be hard during intercourse, sticking to a rhythm is one we'd like to be, well, simpler.
Now with We-Vibe Sync, vibing to the beat of ANY song your heart desires is easier than ever because it literally vibrates to the beat of any tune. Whether you're doing the tango with your partner, or a dance solo of your own, the Sync grips to your body, staying in place all night (or day) long.
The best part is you can take the Sync anywhere your smart phone can go and enjoy some out-and-about, sexy fun with the We-Vibe app! Instead of confining your new grooves to the bedroom, you can take your Sync with you on your morning commute, your weekly trip to the grocery store, or even to your office. And in case you are wondering, yes, it is quiet enough to be stealthy!
In this video, Emily proves that knows exactly how to keep the stresses of a long work day at bay. Even if it results in a few odd, but not entirely surprised, looks around the office. Vibe on!
To find out more and get your own We-Vibe Sync, visit www.we-vibe.com/sync.
To see more of Emily's crazy antics that, without a doubt, make the SWE office the most interesting place to work, check out her Instagram and Snapchat: @sexwithemily
If you want even more Emily, subscribe to our youtube channel: www.youtube.com/sexwithemily69.