3 Ways to Have a MMF Threesome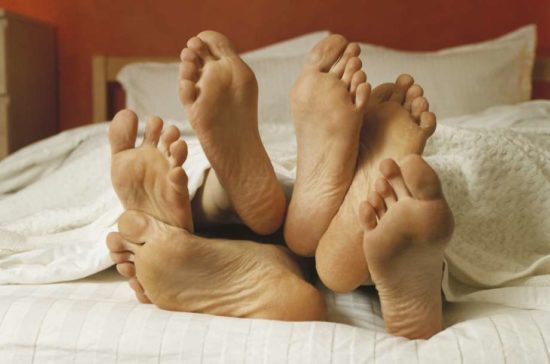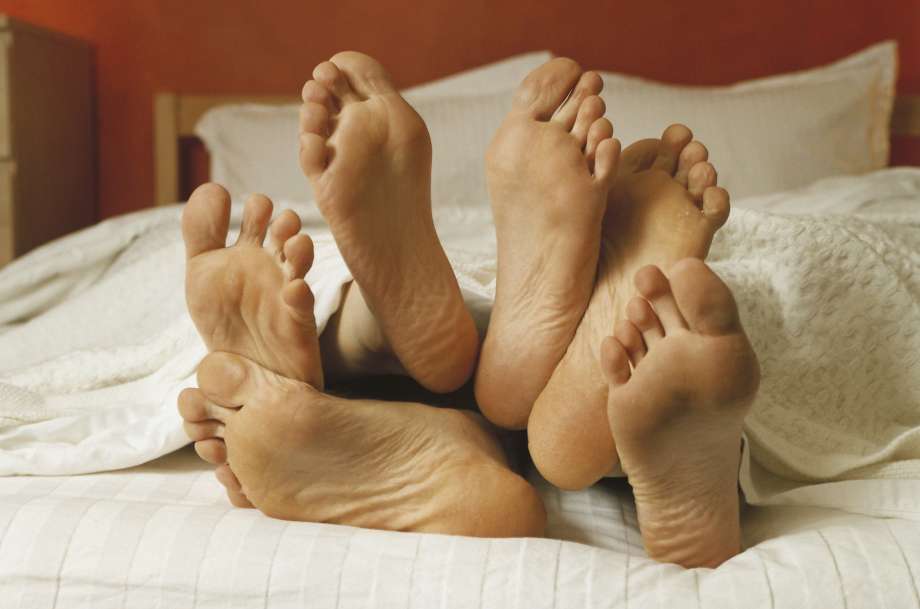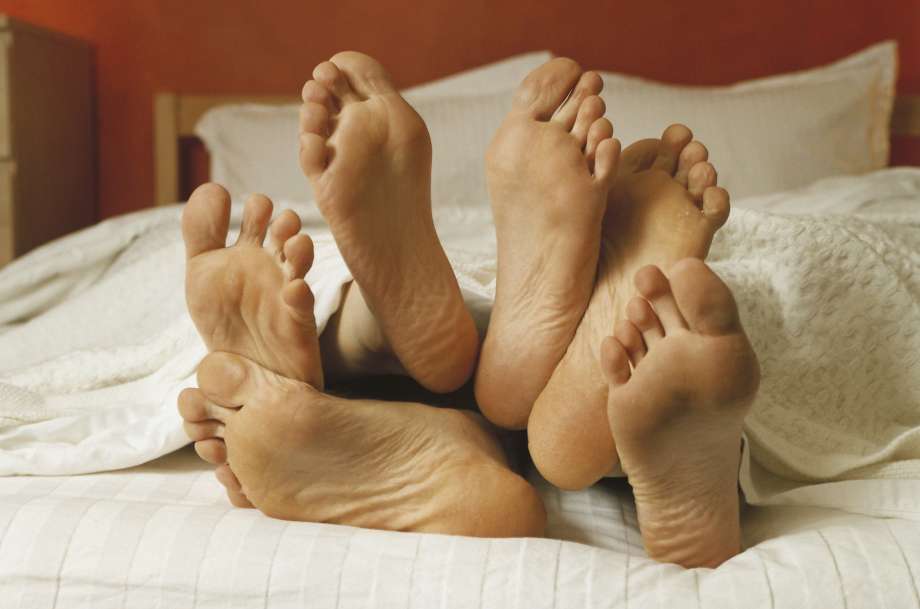 Threesomes seem to be all the rage these days. 
In today's society, it's considered more acceptable for two girls to be close intimately, so when people think threesomes, most picture two women and one man. Unfortunately, this perpetuates a double standard when it comes to MMF. People tend to pull back and scrunch up their noses to the idea.
To me, it makes no sense. Straight men still watch straight porn, so their still choosing to see an erect penis. What they don't realize is that subconsciously, this view taps into their primal brain to promote sperm competition – which makes them hard. So, a MMF threesome does the same thing, but in the flesh (which makes it a lot hotter).
My boyfriend and I only have these kinds of threesomes now. And no, he is not bisexual – we have come to a conclusion on that – but he is heteroflexible. Plus, he's a voyeur and practices compersion – which means he likes to watch.
However, the main reason we don't bring other women in to be our third is because there's too much for him to do. Think about it: one woman can be complex enough, but to have two women who may like different types of touch? It actually stresses him out because he feels like he can never satisfy both ladies.
So, two men in the mix can have a few benefits you may have never thought of – and there are three different ways to execute it.
One at a Time
This is great for the guys who aren't too sure, the cuckolders, and those that practice compersion. Only one guy plays with the woman at a time – while the other sits off to the side. It's like free live porn!
The "not so sure about this" guys are the ones who are not 100% on how they feel about having another man in the room. However, they are willing to step outside their comfort zone and test the waters (so, props to them). If you have a Fleshlight handy, it'll make the watching that much more pleasurable.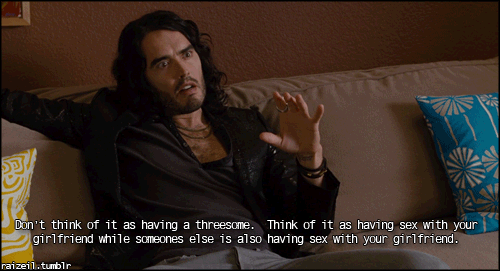 Cuckolding is more so for couples, although single men can also have this kink – if they find others who want to play with them. The woman basically "forces" her guy to watch her have sex with another man. Typically, it is while humiliating her guy. This could include telling her man the other guy is the best sex she's ever had, his penis is so much better, or other things along those lines.
Voyeurism and Compersion is all about watching. Voyeures enjoy simply watching others have sex. Someone who has compersion actually gets aroused watching their significant other being pleased by someone else.
Two on One
The next variation is having both guys play with the woman at the same time. This is where some creativity can come in, like the classic eiffel tower pose. One person is behind in doggy style, while the woman is giving oral pleasure to the other. This is also sometimes called the "high-five."
There are a variety of other poses you can try with this as well, like "doggie +1" – which is very similar to the eiffel tower, but the person receiving oral from the female is laying on his back. There is also the switch-off blow job – where she is on her knees, switching off giving head to each guy. She could also give a "double blowjob," where she attempts to take both guys in her mouth at the same time. During these scenarios, she could also be pleasing herself with a vibrator, like the Magic Wand.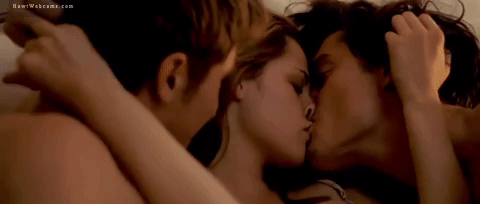 Finally, there is double penetration. This is when one guy penetrates the woman vaginally while the other enters through the back door. This can be very intense for the woman, but if she relaxes into it, some say it is the utmost of fulfilled pleasure. There is also the DVP (double vaginal penetration), yet some would consider this to be part of the next category.
All In It To Win It
We'll call this the most open or curious MMF you can get. This is when everyone plays with everyone, and the guys venture through their bi-curious or bisexual side. As stated previously, some would say a DVP or the double BJ belongs here because there is contact between the two men. There are many fun positions for this, though.
The "69 Doggie," for example, is when the woman is 69ing with one guy and the second guy penetrates her in doggie style. This gives the guy underneath access to orally pleasure both partners.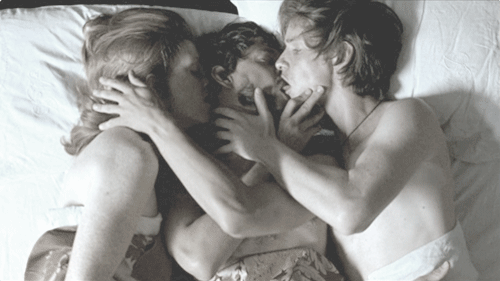 You can take it a step further with the partner blowjob (one of my personal favorites). This time, the woman and one guy give the other a blowjob together – either at the same time or by taking turns. Another amazing oral position is called "the daisy chain" – which is like a pinwheel or continuous chain of oral pleasure – one on one on one.
Last, but not least, there is the stack where one guy penetrates the other while he is inside the woman. This creates a stack, or a train, of penetration.
Of course, there are so many other exciting positions to explore the more open you get. It's all about trying things out and seeing what works best for all those involved.
Keep In Mind
Ladies, this is your time to have the power as well as relax into the pleasure. You decide who, how, and when you are to be touched. You are the center of lust and pleasure, so let go and enjoy. Use your imagination and play out some of those deep fantasies of yours. Most importantly, though, stay safe. Make sure to drink lots of water, use plenty of lube, and always use condoms.
Rose Breedlove is an erotic writer and sex coach opening mind to alternative relationships, tantra, and kink. Step away from the judgements and step into your surrender. You can keep up with Rose's adventures at naught-pixie.com or connect with her on Instagram @RoseBreedlove or @the.naughty.pixie