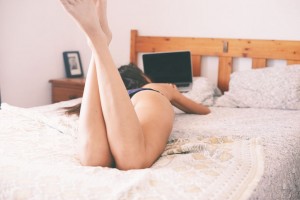 To sext or not to sext? That is the question… At least, it used to be. These days, it seems like everyone has a naughty text or two stored in their inbox and according to recent research, this assumption is not far off. One 2015 study in particular surveyed 870 Americans, 88% of whom admitted to sexting at least once in their life. And these weren't just millennials!
With the rise in dating apps and social media, it's no surprise that sexting has become a pivotal part of the mating process. When done correctly, sexting can be seen as the modern-day equivalent of a steamy love letter, minus the debilitating hand cramp (Unless of course… Well, you know!) But send the wrong sext to the wrong person and you'll be forever saved in their mind as awkward, offensive or downright skeezy.
So how do you know if your sexually explicit message will be received with a sizzle or returned with a restraining order? The success of any sext comes down to two important factors: content and context. What are you sexting? Why are you sexting it? And who are you sending sexually explicit messages to?
Read More

»
Posted by
Madison
| 0

comments