Doggie Style vs. CAT position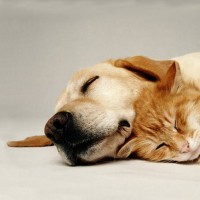 In honor of adorable videos of kittens playing piano and all the porn on the Internet– sex tips for both cat and dog people.
Doggie Style can get rough. It is perhaps the most animalistic of all the positions. It is great for deep penetration and for hitting the female G-spot. She kneels on all fours; he kneels or stands behind her as he penetrates. Some people don't like doggie style because it lacks the intimacy of other positions. You don't get to constantly stare into your lover's eyes. However, a lack of eye contact is not always a bad thing. If you feel the need to gaze lovingly at your partner as they pummel you from behind, look over your shoulder and give them a kiss or nibble their lip.
If you aren't sure about doggie style, take a more feline approach with the Cat's Meow. She arches her back while he slows down the movements. Although I hate cats with an undying passion, it can be great way to slow down and get in touch with your feline side. Doggie style can get too energetic and rough sometimes. Plus there is no clitoral stimulation so you might want to include a vibrator or a helping hand.
Built-in clitoral stimulation in missionary position is something only CAT can provide. Coital Alignment Technique (CAT) is not a selfish move, which makes it ironically very un-catlike. CAT position is the best missionary position for the clitoris. He scoots forward about three inches from the usual missionary position and cups her shoulders while he slips inside her. He rubs her clitoris with his penis in an up-and-down motion, which is much more pleasing for her than the old in-out. This position is the best for simultaneous orgasms, if anyone should ever be so lucky.
So even if you think Missionary is tame and boring compared to doggie style, you should probably give CAT a chance. An orgasm might just sneak up on you.