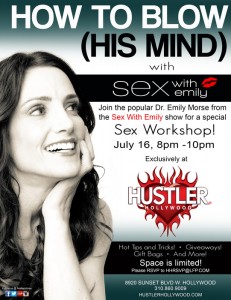 All month long, I've been gearing up to host my first workshop at Hustler Hollywood! On July 16th, from 8:00-10:00 pm, I'll be hosting an exciting event called "How to Blow (His Mind)." You can RSVP at HHRSVP@LFP.COM
There'll be hot tips and tricks, giveaways, plenty of time for questions & answers, gift bags and much more!
I've done live events and book signings but I've never done anything like this. I'm super excited to host a workshop where I can talk directly with my listeners about all their sex and relationship questions.